5379 Portage Street 
Lilly, PA 15938
814.886.5551
Fax 814.886.7697
Email: familylife@dioceseaj.org
What to look for on this page!!!
Scheduled Programs by our office

Marriage Preparation Information Link

Reflections on Sunday Readings

Monthly Family Ritual

Information Links on Life Situations

"At Home" Enrichment/Educational Materials to Purchase
Staff:
Donna Cook, Office Manager
Jackie Lingafelt, Part-time Secretary
Dolly Templeton, Part-time Secretary
We serve parishes and families of the Altoona-Johnstown diocese:
Bedford, Blair, Cambria, Centre, Clinton, Fulton, Huntingdon, and Somerset.
Ages and Stages of Families
enriched and served  by our Office
Traditional
Multi-Generational
Parents
Widowed
Elderly
Bereaved
Married
Engaged
Step-Families
Separated/Divorced
Single Parent
Childless
Young Children
Teens
Singles
Intellectual Disabilities
Family Spirituality

YOUR FAMILY!
Scheduled FAMILY LIFE OFFICE Sponsored Programs
Programs and resources for other areas of family life are available. Check our webpage for updates or contact our office for more information.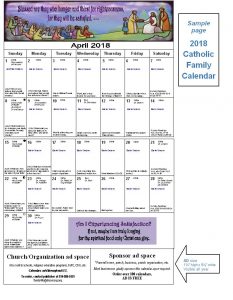 Download 2018 Calendar Flyer/Order Form and 2018 Sample Calendar Page below.
Natural Family Planning Information Session
An information session on Natural Family Planning (NFP), a scientific method of regulating conception approved by the Catholic Church, will be held on Tuesday, May 23 at St. John Rectory Meeting Room, 134 E. Bishop St., Bellefonte at 7:00 p.m.  An NFP instructor will present information on learning the method. NFP is based on the awareness of a couple's fertility. It can be used to achieve or postpone pregnancy and is a helpful tool for infertile couples. No reservations necessary. If you would like more information on the session, contact 814-355-3134.

---
MASS and LUNCHEON was held
for Widows and Widowers
of the Altoona-Johnstown Diocese
A Remembrance Day of Prayer for Widow and Widowers of the Altoona-Johnstown Diocese was held on the first day of spring, Monday, March 20, 2017.  The theme for the day was "No winter lasts forever…Spring offers a New Beginning."  Ninety people participated in the mass and luncheon that was organized by the staff of the Diocesan Family Life Office.
Outdoor Mass for Married Couples
with Bishop Mark
Sunday, July 23, 2017 – 7:00 p.m.
Annual outdoor mass held on a Sunday in the summer at Loretto for ALL parishioners of the Altoona-Johnstown Diocese. Bishop Mark is celebrant and homilist for the mass honoring those living the Sacrament of Marriage.
---
Worldwide Marriage Encounter
Rediscover the one you love!
Get away from jobs, kids, chores, computers, phones and focus only on each other. If you would like greater depth, growth and enrichment in your relationship, don't miss this chance.
412.635.7775 or 814.823.4600
www.yourmarriageisworthit.org
---
Faith & Light Group for
Those with Intellectual Disabilities
The hectic and busy lives of people easily lead them into a situation of over-looking or forgetting those who cannot keep the same pace–those with intellectual disabilities–by accident or from birth. Faith & Light is a faith sharing group which includes family members, caregivers and friends of persons with intellectual disabilities. Meetings are held at the Family Life Office with activities held throughout the diocese.
---
Wedding Anniversary Masses for couples celebrating 1, 5, 10, 25, 40, 50, 55, 60+ Anniversaries
Each Fall, two separate celebrations are held to pay tribute to couples celebrating milestone Wedding Anniversaries within that current year. One mass is held at the Cathedral in Altoona and the other at St. John Gualbert Cathedral in Johnstown. The Bishop of the Diocese celebrates Mass at each. All participants receive a certificate. A light reception follows each event.
Celebrate the Easter Season in your Home!  
Lent is l-o-o-n-g–40 days.
But the Easter season is even longer–50 days!
Obviously the Church wants us to rejoice and celebrate. After all, good is triumphant over evil, and our God is with us forever.
As disciples of Christ we know that, but is it evident in our homes?
Here are simple ideas to remind the members of your little home church of their Easter faith and to proclaim your Christian identity to all who visit:
Keep a potted Easter flower on your kitchen table.
Add an "Alleluia, Christ is risen" sign to the plant.
Meet around the flower at bedtime for a hug and a "God bless you."
     FAMILIES AND THE GOSPEL
     Reflections on the Sunday Reading
       ~Used with permission from "Family Perspective" by Bud Ozar
April 30        Luke 24:13-35
In today's gospel the disciples were returning home so "downcast" they did not recognize Jesus walking with them. In our homes we can be so overwhelmed with responsibilities we don't see God with us. Today's gospel tells us to stop and open our eyes to the blessings we are to one another.
May 7           John 10:1-10
In today's gospel Jesus tells us, HE IS THE WAY and warns anyone who offers "another way" to happiness is "a thief and a bandit."  Strong words!  Don't listen to the sales pitch of society for happiness.  Look to yourself where God is present and "calls you by name and leads you to abundant life."
May 14         John 14:1-12
Jesus tells us in the gospel:   "I am in the Father and the Father is in me!"   The point is:  God is in each one of us, in our relationships and in our homes. The vocation of the Christian family is to live the divine gift which is already in and around us.  Mothers are instruments of Christ's presence in the home.
May 21         John 14:15-21
In today's gospel Jesus prepared his disciples for his departure.  Family life is a series of departures.  As we mature and grow older we constantly transition from the familiar to the new unknown.  Today Jesus assures us we are not alone in these transitions.  "I will not leave you orphans.  I will come to you."
May 28         John 17:1-11a
Jesus appointed apostles, he also appoints parents to represent Him in the family; "make disciples of your children, baptizing and teaching them all I have taught you.  Don't worry, I am with you always."
May 29         Memorial Day
Our decisions create our style of living and what kind of person we are. That's the awesome power of free will. As we celebrate Memorial Day, ask yourself: How do I want to be remembered? The power is in your hands, or rather in your decisions.
Free RESOURCE LIBRARY
-Books, periodicals, DVDs
-Can be sent via mail
Free SPEAKERS BUREAU
-For parishes and Catholic organizations anywhere in the diocese
-Topics of your choice relating to family
"AT HOME" ENRICHMENT/EDUCATIONAL MATERIALS TO PURCHASE
(Published by the Family Life Office)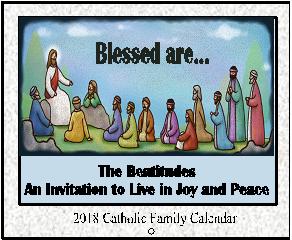 2018 Catholic Family Calendar
Evangelizing tool for families of all ages and stages promoting family communication and faith sharing. Contains a monthly prayer, weekly Sunday readings with discussion questions, simple daily activities or thoughts, listed Holy Days, Holidays, and Feast Days. Published since 1982…our 36th year!
Bulk orders available for the 2018 Catholic Family Calendar! The calendar can be ordered for churches by funeral homes, parishes, schools, or businesses as an advertising tool. Bulk orders over 100 with free ad space available at a substantially reduced rate. Orders due in our office by August 1, 2017!
Download 2018 Calendar Flyer and 2018 Sample Calendar Page below.
Holiday Spirituality in the Home: Thanksgiving, Advent and Christmas
Ideal guide for families and individuals in search of spiritual and festive home practices. Contains traditions, activities, home rituals, and holiday legends from Thanksgiving to Epiphany. 53 page booklet.
A Change of Heart: Lent and Easter at Home
Ideal guide for families and individuals in search of spiritual home practices focusing on the Lent and Easter seasons. Contains popular traditions, rituals, and devotional activities. 40 page booklet.
Out of the Darkness into the Dawn: A Journey Through Grief 
Simple, practical and spiritual ideas for grieving persons and families. Focuses on grieving as a normal process of healing. Provides explanations of common grief experiences. Section with questions for individual reflection or group discussion. 55 page booklet.
Additional materials available:
~ Parent resource for Baby's First Year "Passing on the Faith"
~ Parent resource for Age 1-4 "Passing on the Faith"
~ Baby's First Year Calendar
~ Heaven's Treasure – spiritual tools for those who experienced the loss of a child through miscarriage or early fetal death
~ Collection Basket – church bulletin supplement to enrich families.