Around The Clock
Behind Jo-Ann Semko's desk is stenciling that says "Thankful, Grateful, and truly Blessed." As a woman of faith and prayer, her belief in that motto is stronger than ever these days, which is no small accomplishment considering the monumental decisions she is facing.
John Roy, Seminarian
Clayton Housler, Seminarian
Father Benedict Jurchak, TOR
Chad Packer, OLV School Principal
Advent Directives
To help keep crowds within the limits demanded by physical distancing, Bishop Mark has announced that pastors and administrators may celebrate a vigil Mass as early as 2:00 p.m. on the afternoon of Christmas Eve, December 24.
VIDEO PLAYLIST
FULL STORY
Candidates, Sponsors,
& Parents
Pope Francis once said, "The Holy Spirit is a great worker, and He works in us, always." Appropriately enough, the grace of the Spirit seems to be working in young people preparing for the Sacrament of Confirmation amid a pandemic.
FULL LETTER
"Hitting A High Note"
Father Joe Nale, Pastor of Most Holy Trinity Parish in South Fork, and parishioner Joe Rulli recently teamed up to install a new pipe organ in the church. They had help from a few others – including Rulli's 100 year old mother.
FOR OFFERTORY COLLECTIONS
FOR CHOIRS/SOLOISTS/READERS
Dearly Departed
Perhaps no one celebrates symbolism like the Catholic Church. The symbols were, indeed, powerful during a prayer service to remember deceased loved ones from Sacred Heart and Saint Mary parishes in Altoona on November 1 at Sacred Heart
FULL MESSAGE
Apple Of Our Eyes
Father Michael Wolfe is a man of few secrets, but when it comes to his grandmother's legendary apple pie recipe, good luck prying it out of him. "It involves two apples," he confessed.
FULL EDITION
READ PREVIOUS ISSUES
God Has A Plan For
All Of Us
The Fall/Winter 2020 Edition of Proclaim! Christ In Your Life Magazine is now available to read in your parish and online!
DONATE TODAY
Marriage Prep Series
The sacramental preparation for marriage is an invitation to couples to invest time and energy into the important work of preparing for their married life together and continuing their faith journey with God.
Sacramental
Milestones
Congratulations to our young people throughout the Diocese of Altoona-Johnstown celebrating the Sacraments of First Holy Communion and Confirmation this summer.
FULL GALLERY
Father Jude Brady, OSB
Father Jude Brady, OSB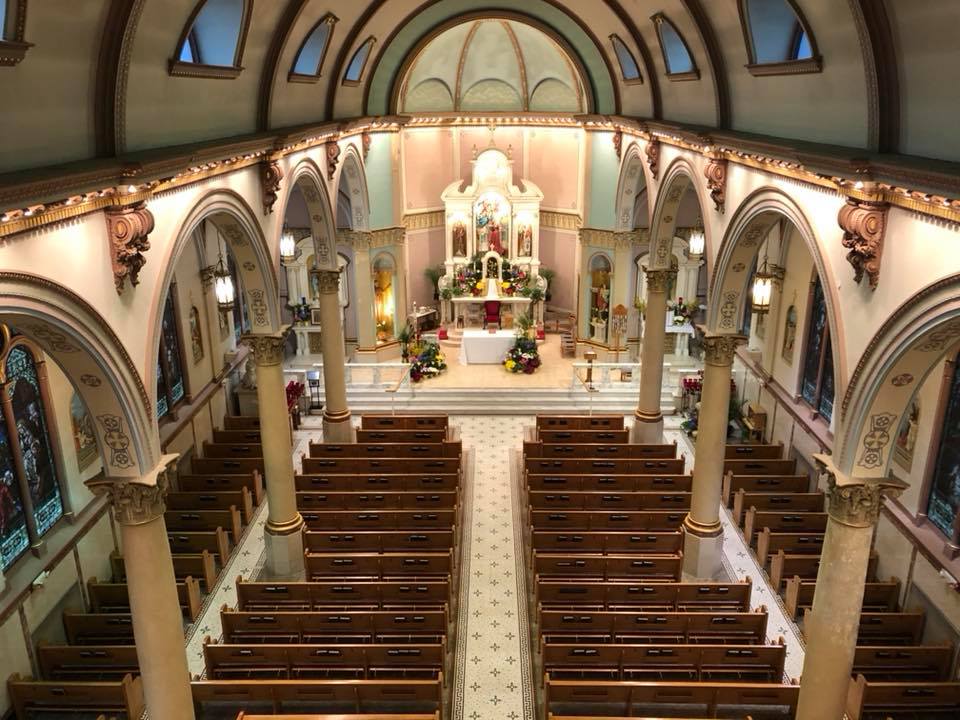 Concerning Sunday
Mass Obligations
"Some pastors and even Bishop Mark's office have reported that people are still asking if the dispensation from the obligation to attend Mass on Sunday remains in effect. The answer is yes, but some are wondering how to observe that practice."
DIOCESAN YOUTH PROTECTION WEBSITE
"A SENSE OF VULNERABILITY"

The Roman Catholic Diocese of Altoona-Johnstown
The Diocese of Altoona-Johnstown serves Catholics in eight counties — Bedford, Blair, Cambria, Centre, Clinton, Fulton, Huntingdon, and Somerset. The Diocese is home to 87 parishes, which are served by Diocesan priests and priests from various religious communities, including the Third Order Regular Franciscans, the Conventual Franciscans, and the Order of Saint Benedict. The official Catholic population of the Diocese is 84,039.
News |

Diocese Happenings
A Message from Bishop Mark regarding Pope Francis and the Church's teaching about marriage.