Full Circle
Sometimes life takes you full circle, and for Marian Farabaugh, that is a very good thing.
Holy Thursday
Good Friday
Easter Vigil/Easter Sunday
USCCB Easter/Triduum Resources
Responding With Feet
Listening involves using more than one's ears. Bishop Mark made that point as he ordained diocesan seminarian Brian Norris as a transitional deacon on May 15 at the Cathedral of the Blessed Sacrament in Altoona.
FULL MESSAGE
Masters of Divinity
During commencement exercises on May 21, Deacon Mark Groeger and Deacon Michael Pleva received Master of Divinity Degrees, completing their academic formation at the seminary.
FULL EDITION
READ PREVIOUS ISSUES
2021 Salute
It is graduation season for the four Catholic high schools in the Diocese of Altoona-Johnstown.
DONATE TODAY
Faith Forward
When it comes to living their faith, one might say a group of Altoona women have it in the bag. "We're like a family together," observed Bonnie Pfeffer, the leader of an ARISE Together in Christ group comprised mostly of parishioners of Saint Mark in Altoona. is yes, but some are wondering how to observe that practice."
DIOCESAN YOUTH PROTECTION WEBSITE
"A SENSE OF VULNERABILITY"
Updated Covid-19 Response
Individuals will no longer be required to wear masks at Mass beginning this weekend; obligation to attend Mass remains waived by the Bishop.
FULL LETTER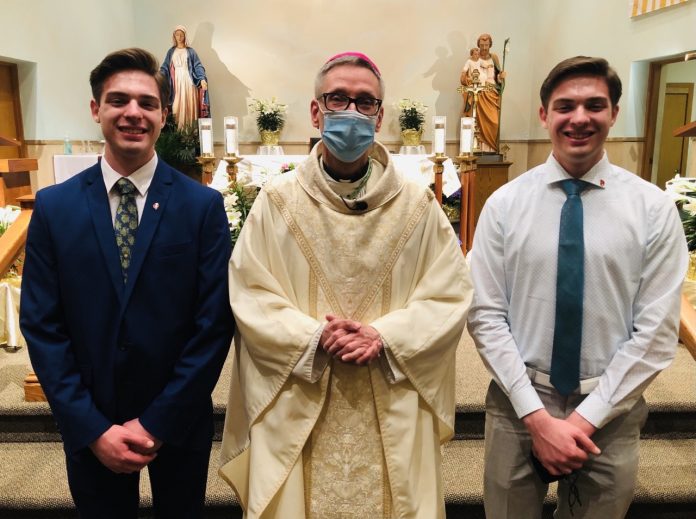 Twice as Nice
Confirmation is a double blessing for the Anderson family this year. Twin brothers Nicklaus and Noah Anderson are among the hundreds of high school juniors receiving the sacrament this Easter season in the Diocese of Altoona-Johnstown.
COVID-19 Directives
Bishop Mark has directed that parishes may return to full capacity and resume other activities beginning on Memorial Day -- May 31, 2021. However, masking requirements remain in place for Masses and all other indoor activities.
FULL GALLERY
Father Jude Brady, OSB
Father Jude Brady, OSB
Disciples of Hope
Pope Francis describes the disciple of hope as a person who stands by, and with and for those who need the gift of hope. With the opening of the 2021 Catholic Ministries Drive, you too can be a disciple of hope to those in your faith communities.
VIDEO PLAYLIST
FULL STORY
Year of Saint Joseph
Pilgrimage opportunities, special prayers and reflections, and an art contest are among the Diocese of Altoona-Johnstown plans to celebrate the Year of Saint Joseph as declared by Pope Francis on December 8, 2020, and continuing until December 8, 2021.
FOR OFFERTORY COLLECTIONS
FOR CHOIRS/SOLOISTS/READERS

The Roman Catholic Diocese of Altoona-Johnstown
The Diocese of Altoona-Johnstown serves Catholics in eight counties — Bedford, Blair, Cambria, Centre, Clinton, Fulton, Huntingdon, and Somerset. The Diocese is home to 87 parishes, which are served by Diocesan priests and priests from various religious communities, including the Third Order Regular Franciscans, the Conventual Franciscans, and the Order of Saint Benedict. The official Catholic population of the Diocese is 84,039.
News |

Diocese Happenings
It has come to my attention that some people are concerned that I joined a number of other Bishops in asking that discussion and work on the topic of Eucharistic worthiness be postponed until the full body of Bishops is able to meet in person...