"Our Lord is hidden there in the Blessed Sacrament, waiting for us to come and visit Him, and make our requests to Him." ~Saint John Vianney
The Bishops of the United States are calling for a three-year grassroots revival of devotion and belief in the Real Presence of Jesus in the Eucharist. We are seeking to renew the whole Church by enkindling a living relationship with the Lord Jesus in the Holy Eucharist, at all levels of worship. 
Father Clem Gardner - "How the Homily Has Anchored My Priestly Life and How It Can Anchor a Christian Life"
Father Jude Brady, OSB - "The Transforming Power of the Eucharist"
Father Brian Norris - "The Mass is Over, But Your Job Has Just Begun"
Robert Long - "The Spirit of the Song"
Strategic Pillars of the Revival
Foster encounters with Jesus through personal proclamation and experiences of Eucharistic devotion.
Contemplate and proclaim the doctrine of the Real Presence of Jesus in the Eucharist through the Truth of our teaching, Beauty of our worship, and Goodness of our accompaniment of persons in poverty and those who are vulnerable.
Empower grassroots creativity by partnering with movements, apostolates, parishes, and educational institutions.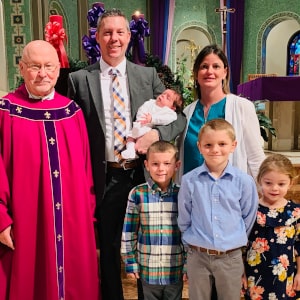 Reach the smallest unit: parish small groups and families
Embrace and learn from the various rich intercultural Eucharistic traditions.
Year of Diocesan Revival
June 19, 2022 - June 2023
Launching on the Solemnity of the Most Holy Body and Blood of Christ, Corpus Christi, the first year invites diocesan staff, bishops, and priests to what Pope Francis has described as "a renewed personal encounter with Jesus Christ" – particularly the transforming power and mercy of Jesus in the Holy Eucharist.
Each diocese will offer events that encourage the faithful to grow in their understanding and devotion to Christ in the Eucharist, complemented by online formation and resources that will raise up Eucharistic Missionaries at all levels of the Church.
Year of Parish Revival
June 11, 2023 - June 2024
The second phase will foster eucharistic devotion at the parish level, strengthening our liturgical life through eucharistic adoration, missions, resources, preaching, and organic movements of the Holy Spirit.
These local efforts will help convert hearts and minds to fall more deeply in love with Jesus Christ, truly present in the Holy Eucharist.
National Eucharistic Congress
July 17-19, 2024
At this historic event, more than 100,000 Catholics of all ages will gather in Indianapolis to worship our Risen Lord in his humble disguise.
The Holy Spirit will enkindle a missionary fire in the heart of our nation as we reconsecrate ourselves to the source and summit of our faith.
National Year of Mission
July 17, 2024 - July 2025
From the Congress in 2024 through Pentecost of 2025, the entire American Church will be sent on mission to share the gift of our Eucharistic Lord with their local communities and beyond. Let the light shine forth!
Local Events & Opportunities
Parish/Church
Eucharistic Adoration
Other Events
Basilica of Saint Michael the Archangel, Loretto
‣ Every Wednesday ~ 6:00-7:00 PM
Holy Family Parish, Portage
‣ Every Friday ~ After 8:00 AM Mass
Holy Name Parish, Ebensburg
‣ Every Tuesday ~ 8:30-10:30 (After 8:00 AM Mass)
‣ First Friday ~ 7:00 PM
Holy Spirit Parish, Lock Haven
‣ June 28 ~ 9:00-10:00 AM
‣ July 28 ~ 9:00-10:00 AM
‣ August 23 ~ 9:00-10:00 AM

*All services held in Immaculate Conception Church
Immaculate Conception Parish, New Germany
‣ Every Thursday ~ 3:00-8:00 PM with Chaplet of Divine Mercy & Rosary (through October)
Our Lady of Lourdes Parish, Altoona
‣ First Friday ~ 7:30-8:00 AM
‣ Second Sunday ~ 4:00 PM Rosary & Eucharistic Exposition/Benediction, bring-a-dish social following in church hall
Our Lady of Mount Carmel Parish, Altoona
‣ Thursday before First Friday ~ 3:00-4:00 PM (Confessions available)
Our Lady of the Alleghenies Parish, Lilly
‣ June 18 ~ Benediction following 4:00 PM Mass
‣ June 19 ~ Benediction following 8:00 AM Mass; Eucharistic Procession & Benediction following 11:00 AM Mass
‣ First Friday ~ 8:30-9:30 AM
‣ 40 Hours: September 11 – September 13, 2022
Prince of Peace Parish, Northern Cambria
‣ Every Friday ~ 7:00-8:00 AM
‣ Rosary before all weekend masses
Queen of Peace Parish, Patton
‣ First Friday ~ 3:00 PM
Resurrection Parish, Johnstown
‣ First Friday ~ 6:30-7:30 PM Holy Hour (Scripture, silent prayer, Litany of the Holy Eucharist, and Benediction)
Sacred Heart Parish, Altoona
‣ Third Sunday ~ 1:00-2:00 PM
Saint Aloysius
‣ Every Wednesday/Thursday ~ 8:00 PM Wednesday – 8:00 PM Thursday (24 hours)
Saint Augustine Parish, Dysart
‣ First Friday ~ 8:30 AM-3:00 PM (after 8:00 AM Mass)
Saint Benedict Parish, Carrolltown
‣ Every Tuesday ~ After 8:00 AM Mass
Saint Clare of Assisi Parish, Johnstown
‣ Second Monday ~ 6:30-7:30 PM (Mass, Exposition, and Benediction)
Saint Francis Xavier Parish, Cresson
‣ Every Saturday ~ 11:00 AM
Saint John the Baptist Parish, Summerhill
‣ Every Thursday ~ 3:00-8:00 PM (from November through April)
Saint John Vianney Parish, Mundy's Corner
‣ First Saturday ~ 11:00 AM Exposition, 12:00 PM Benediction & Reposition (Confessions available)
Saint Joseph Parish, Bellwood
‣ Every Wednesday ~ 7:30-8:30 AM Holy Hour (Chapel)
Saint Mary Parish, Nanty Glo
‣ First Friday ~ 7:30 AM Adoration; Confessions, Rosary, and Benediction following
Saint Nicholas Parish, Nicktown
‣ Every Wednesday ~ 6:00 PM
‣ Every Friday ~ 8:30 AM – 3:00 PM
Saint Rose of Lima Parish, Altoona
‣ Every Thursday ~ Following 8:30 AM Mass until 11:00 AM