The Catholic Ministries Drive supports 14 ministries that touch the lives of every parishioner in each of our parishes. It would be impossible for any individual parish to duplicate the scope of these ministries.


We must all share in the responsibility. You can be assured that 100% of all CMD gifts are restricted to these ministries.
"Pope Francis points out that everyone needs personal accompaniment for our journey with Christ to the Father. This accompaniment must be steady and reassuring. It must reflect a closeness and a compassionate gaze that heals, liberates, and encourages."
"WHAT IN THE WORLD
AM I GOING TO DO?"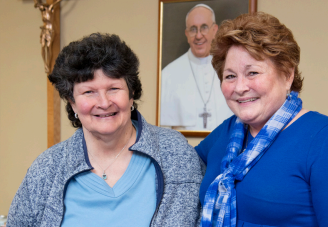 "Just over the limit"—the financial limit—is what brought Debbie to Catholic Charities seeking help. "I could pay for oil," she said. "I just didn't have enough money to pay for a broken furnace."
"CHRIST'S MESSAGE IS TO
TAKE CARE OF OUR NEIGHBORS"
In 1950 Peter Kreckel's grandfather was a widower
raising eight children when he was asked to donate
money for the construction for the new parochial school. Instead, the blacksmith offered his talent to sharpen the workers' chisels, an essential tool in their toolbox.