Congratulations!
Welcome to the Marriage Preparation process
for the Altoona-Johnstown Diocese!
This sacramental preparation is an invitation
to continue your faith journey and to grow in relationship
with God and each other.
The Catholic Church's hope for engaged couples
is a strong, faith-filled marriage.
1. Meet with the priest or deacon
Contact the priest or deacon who will witness your marriage AS SOON AS YOU BECOME ENGAGED or at least nine months before your proposed wedding date. You will be meeting with your priest/deacon several times.
The diocesan marriage directives require a premarital inventory of all couples before marriage. FOCCUS is one particular inventory that is used the most in our diocese and across the country. This inventory is not a test. It is a discussion tool to help you communicate about the areas of your relationship that are strong and those that need work. A priest, deacon, or someone assigned by him gives instruction on taking this inventory online and schedules a follow up session. It is recommended that the FOCCUS inventory and follow up session should be done before you attend a Marriage Preparation Series.
2. Attend marriage preparation
Prepare! Attendance at Marriage Preparation programs in the Diocese can be done 8-12 months before your wedding. You will learn about communication skills, finances, sexuality, Natural Family Planning, spirituality, becoming a "domestic church," and many other helpful and important topics. You will also receive information on planning the wedding ceremony.

Your Options – All fulfill the Altoona-Johnstown diocesan requirements. You only need to attend one option that suits your schedule.
√ Marriage Preparation Course
The Marriage Preparation Course is an invaluable series of two or three sessions designed to help engaged couples develop a better understanding of the sacrament; to evaluate and deepen their readiness to live married life; and to gain insights into themselves as individuals and as a couple. Led by married couples and a priest/deacon. Held in various locations and dates throughout the Altoona-Johnstown Diocese.
√ Engaged Couples Weekend
A weekend away with plenty of time together to develop a better understanding of the sacrament; to evaluate and deepen their readiness to live married life; and to gain insights into themselves as individuals and as a couple. The weekend gives you an opportunity to look at your commitment to each other in a deeper way as you prepare for a holy and lasting marriage. Informal presentations by a team which includes married couples. A great wedding gift from parents or friends. No weekends are available in our diocese at this time. Weekends offered through Catholic Engaged Encounter are acceptable marriage preparation for our diocese. Dates and locations available at www.engagedencounter.org.
√ Sponsor Couple
Parish based program in which an engaged couple meets with a married couple from the parish for a series of meetings. The Sponsor Couple shares their personal experience of marriage with the engaged couple through a one-couple to one-couple approach. Arrange this through your parish, if they offer it.
√ For Those Separated by Distance
These options are accepted by the diocese if you are unable to attend any of the above programs.
~Sponsor Couple
~Marriage preparation in your fiance's diocese
~Engaged Encounter elsewhere www.engagedencounter.org
~Online marriage preparation. Contact the Family Life Office for more information–familylife@dioceseaj.org–(814) 695-5579.
√ Remarriage Sponsor Couple
The issues facing couples entering a second marriage when one or both have been married before are more complex than first marriages. Preparation should be more comprehensive, therefore we offer a Remarriage Sponsor Couple program. To register, email the Family Life Office familylife@dioceseaj.org or call 814.695.5579.
Whether you're engaged, married, or seriously dating, this website is the right place for help in living a happy and holy married life.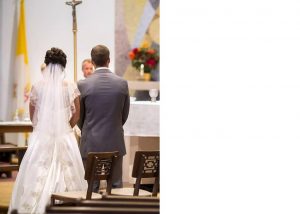 Our Diocesan Family rejoices with you as you become husband and wife, united in Christ. If you have any questions or need further assistance, please contact your parish priest/deacon or the Diocesan Family Life Office, 2713 W. Chestnut Ave., Altoona, PA 16601; 814.695.5579; familylife@dioceseaj.org.
God Bless!
Natural Family Planning
Your marriage is the most important relationship you will have. It needs nurturing, commitment, love and a desire to work together to make it succeed for both of you. Those are the very qualities exercised when a couples uses natural family planning. NFP will enhance your relationship through open, intimate communication, commitment to a common ideal, a deeper respect for each other, creative expression of your love, and thorough understanding of your sexuality.
Natural Family Planning involves the use of the Ovualtion Method which is not the rhythm method, nor does it involve temperature taking. It is an easy addition to your lifestyle without complicated procedures. The woman learns awareness of her bodily signs of fertility or infertility when couples are properly taught and the method is used correctly.
Natural Family Planning information
Couples wishing to learn more about the natural method of family planning