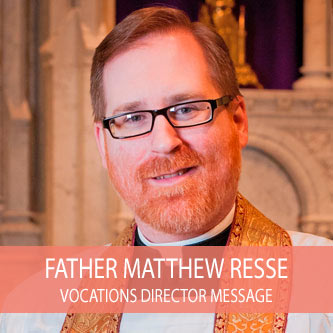 The following column by Father Matthew Reese, Diocesan Director of Vocations, appears in the July 9, 2018, edition of The Catholic Register.
—
Free will. It is an interesting thing given to human beings by our God. Free will is something that allows us to make our own choices in life. Some of those choices can be good while other choices can be bad. Some of those choices can make us happy while other choices can make us sad. Some of those choices can be to follow what God asks of us while some of those choices can reject what God asks of us.
Embracing a priestly vocation is heavily dependent on how one utilizes his own free will. One suggestion I stand by and make to all the faithful is that if you see a young man whom you think has the qualities that make for a good priest, tell him. That is a great sign of encouragement, to have someone randomly yet sincerely tell a man "You would make a good priest." However, after you do that free will takes over.
In my job as Director of Vocations it is so easy to become disheartened by having many young men say that they do not want to become a priest. However, no matter how often anyone of us may point out to a young man that he may make a good priest and may in fact have a vocation, we must allow them to have free will. We must allow them to say "no".
This same free will is applicable to God directly calling a young man to a priestly vocation. God may call very clearly, but if a man does not want to follow that call, even God will not force him to do so. Sometimes it hurts when a person uses their free will to say no to God, especially when God is asking them to embrace a priestly or religious vocation. However, you who are parents know that there comes a time when you must allow your children to make their own decisions, good or bad. God knows that there comes a time when one has to make a decision to follow or to not follow the plan He has for him or her in life.
For us, clergy and laity, who keep trying our best to encourage priestly vocations, it is hard to keep positive when we are continually met with answers of "no". We must allow each young man the ability to use his free will though. We cannot force anyone to be a priest, nor should we. The best we can do is continue to pray that hearts be opened to God and that young men have more courage to explore the possibility that God may in fact be calling them to this vocation.
—–
For more information about priestly vocations, please contact Father Matthew Reese at vocations@dioceseaj.org or (814) 695-5579.

Past Columns