By Tony DeGol
The Catholic Register
What a difference a year makes for Robert Luther.
When students from All Saints Catholic School in Cresson sponsored their annual salute to veterans in November 2017, Luther was deployed in Iraq for the United States Army.
Loved ones back home sent him video of the touching tribute.
"I had tears rolling down my face," he remembered.
This year, no video was necessary. He had a front row seat.
Luther, who has two children who attend All Saints Catholic School, was among many veterans on hand for the 2018 salute on Wednesday, November 14.
Mass was celebrated at Saint Francis Xavier Parish in Cresson, after which the entire student body lovingly sang patriotic songs to the veterans and recognized branches of the military. A reception followed in the parish hall.
Luther, who returned home in June, loved seeing his children – fourth grader Isac and kindergartener Ilayna – participate.
"It means a lot," he admitted. "To see all these veterans here, it's amazing that the school does this."
David Humm, a veteran of the United States Airforce, echoed Luther's comments.
"We love the kids – especially their singing," he mentioned. "We're just proud to be here and be part of this ceremony."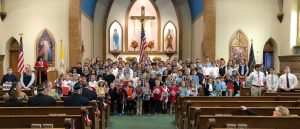 All Saints Catholic School has a long tradition of recognizing the contributions of the military. Teacher Robin Zavada is the founder of Project Smile, a program that supports soldiers serving overseas. Through the program, ASCS students routinely send greetings to the troops.
"They usually write back and seem happy to hear from us," said eighth grade student Teresa Golden.
The annual November tribute to veterans also offers the students a valuable lesson.
"The importance of having this Mass for our children is to really make them aware of all the blessings they have – living in a country with such great abundance – and to be thankful for all these blessings," said Father Matthew Reese, temporary administrator of All Saints Catholic School. "I think our young people really got that message today and were so grateful for the presence of so many of our men and women who have honorably served."
Stephen Kelley, who has 34 years of combined service with the Pennsylvania Army National Guard, admitted that the students taught him something valuable.
"Having the kids up there gave me a reminder of what I've done, the sacrifices I've made, and who it was for," he said. "The kids did a great job today."
And even though Veterans Day has once again come and gone, the words of one ASCS eighth grader are something all Americans should never forget.
"It's important to recognize the veterans in your area," said Thomas Urbain. "They are the ones who have kept this country safe and protected our freedoms so we can live safely in everyday life. Whenever you see a veteran, just thank them for their service. That'll put a smile on their face and make their day – that you care about what they did for you."
Certainly Urbain's fellow school mates Isac and Ilayna Luther would agree, as they cherish having their dad back home again.