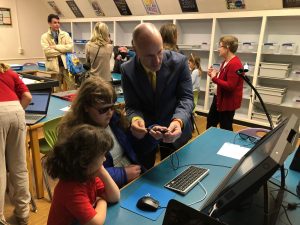 [Photos: DMCA Principal Tom Smith demonstrates some of the technology in the new West Campus STREAM lab.]
Thanks to a major gift to Divine Mercy Catholic Academy in Johnstown, the West Campus has created a state-of-the-art STREAM lab.
STREAM is an extension of STEM, a curriculum that centers around Science, Technology, Engineering, and Mathematics. DMCA's program expands those core elements to include the Religion and Art components. DMCA will be the only school in the area to employ this comprehensive approach.
The program will utilize portions of the LEGO® Education System. A donor stepped forward to finance the initial acquisition of the LEGO® materials and the staffing of a STREAM director, while the school is actively seeking other contributions to insure sustainability of the program for many years to come.