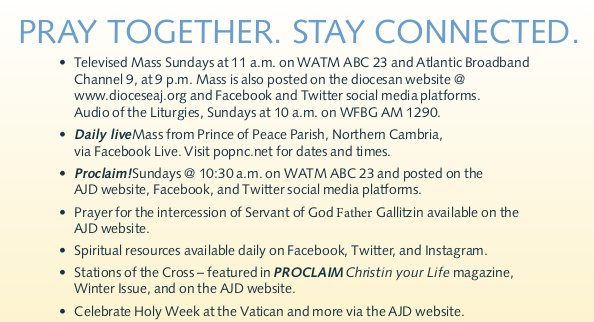 God of mercy and love, your faithful servant, Father Demetrius A. Gallitzin, gave up everything to sow the seeds of faith among the people of the Allegheny Mountains. Please listen to his intercession for us in our day, even as we ask that we be allowed to invoke him publicly as our patron with you.


Pour out your kindness and mercy upon us and listen to our prayer, as we humbly beseech you to grant us the favor of (name your intention).


Give us the humble courage of Servant of God Demetrius, so that we may praise and bless you through service to our neighbor and through witness to the Gospel of your Son, our Lord Jesus Christ, who lives and reigns with you and the Holy Spirit, one God forever and ever. Amen.