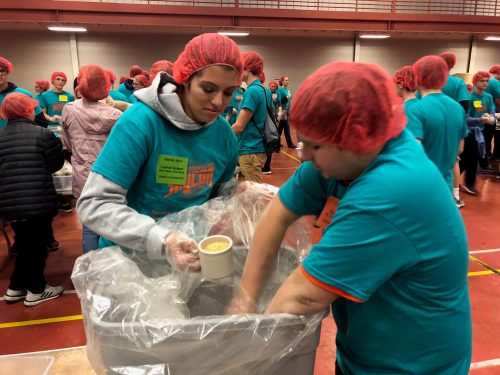 By Tony DeGol
The Catholic Register
Abbey Krug and Paige McMullen went home from the recent SHYCON to a pantry and refrigerator packed with great food.
Whatever they ended up eating for dinner that night, their appetite to help those with nothing to eat was already satisfied.
Once again, high school students who participated in the 2018 Senior High Youth Conference had the opportunity to package 30,000 meals for the Rise Against Hunger organization. The food will feed people here in this country and around the world.
Members of Saint Augustine Parish in St. Augustine, Krug and McMullen walked away with a feeling of accomplishment.
"You hear a lot about third world countries and people struggling, but you don't see it that much especially where we live around here," Krug observed. "Whenever you get to do something physical to help that many people, it makes you feel really good."
Added McMullen: "It feels so good to help someone, even if you can't see them but, in your heart, you know you helped them."
Alan Ninan, event facilitator for Rise Against Hunger, hopes the 850 teens who participated will use the power of social media to spread that powerful message.
"Having the opportunity to share that with others, the opportunity to experience that in their privilege of having food security, they can understand and empathize with those with food insecurity," he said.
The meals, according to Ninan, will reach people in places like Nicaragua and South Africa. Even those struggling from recent natural disasters in the United States may benefit.
Filled with mainly rice – the food packs may have seemed meager compared to the bounty most of us enjoy. The lesson behind the effort, however, was huge.
"It really helps you to know that you can do something either as a group or on your own," mentioned Emma Servey, a member of Our Lady of Victory Parish in State College. "You can reach out in many ways no matter how small it seems."
The theme for SHYCON 2018 was "Strong and Courageous." Inspired by Scripture, the message to the youth was to never be frightened or disheartened because God walks with them.
Nationally-recognized speaker Paul J. Kim highlighted the theme in his keynote presentations.
Bishop Mark L. Bartchak celebrated Mass for the students and spoke to the teenagers about where they are in life.
"You are bombarded with so much information, not all of which is helpful or true," the Bishop said. "And sometimes you can get stressed over the responsibilities that you have at home, in school, on a sports team, or other activities, organizations, and commitments you have made."
There are situations and experiences in life that can make us feel nervous, disoriented, and afraid, continued Bishop Mark. How we respond is key.
"Things like nasty words, name-calling, revenge, and terroristic violence are not examples of strength or courage," he reminded. "They are signs of weakness and insecurity. Unfortunately in our world, that's how some people want to live. But you and I have been given the option of a better way. It's an option, an invitation that is given to each of us by the Lord."
The Bishop encouraged the youth to let others experience Jesus through them.
"I don't know if you thought about it while you were packaging meals for hungry people that you will never encounter, but there is a very real possibility that they will encounter Jesus because of your efforts today," he explained.
Sponsored by the Diocese of Altoona-Johnstown Office of Youth Ministry, SHYCON was held at Saint Francis University in Loretto. One of many youth events offered throughout the year, the annual gathering offers students the opportunity to celebrate their faith while joining with peers from throughout the wider Church.
"I think it is amazing that so many of us came together to help out today, and to see so many teenagers in one place all working toward the same cause is amazing," stated Our Lady of Victory parishioner Rachel D'Angelo.