The annual Senior High Youth Conference (SHYCON) will be held on October at Saint Francis University. Sponsored by the Diocesan Office of Youth Ministry, SHYCON is open to students in grades 9-12.
Click below for more.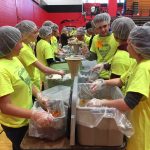 A special part of the day will include an effort to pack 30,000 meals to assist those affected by Hurricane Harvey and other natural disasters around the world.
Click below for more.