"The Secret Ingredient" ~ Recipes featured on "Proclaim!"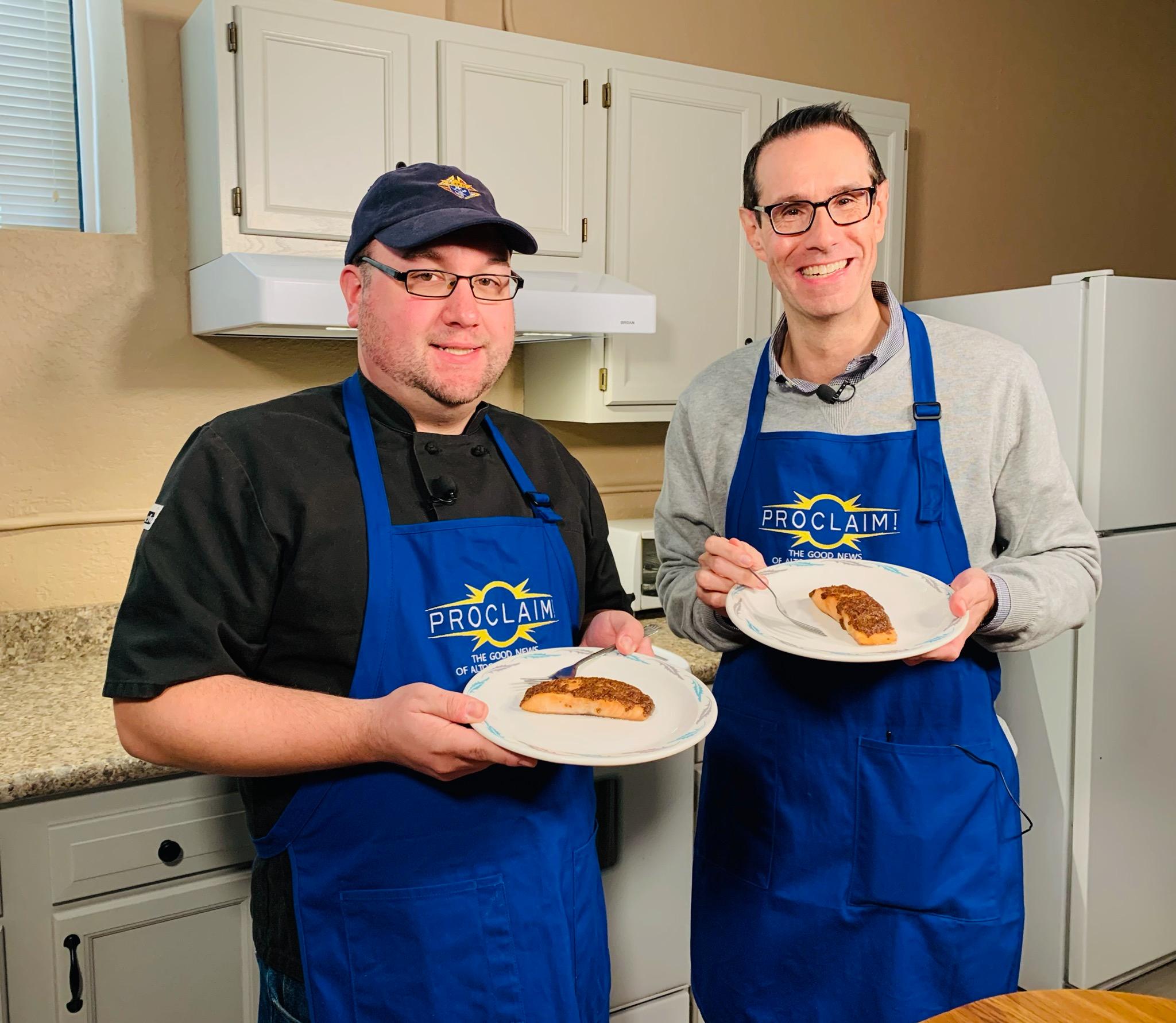 ~Roasted Salmon with~
Mustard Brown Sugar Glaze
Matthew Coll
Saint John the Evangelist Parish, Bellefonte
2 lbs Skin-Off Salmon
½ Cup Kosher Salt
⅓ Cup White Sugar
Cooking Spray
Black Pepper to Taste
½ Cup Grainy Mustard
2 Tablespoons Soy Sauce
1 Teaspoon Garlic Powder
¼ Cup Brown Sugar
Making The Brine – To ensure a moist, perfectly seasoned salmon, we will brine in a simple mixture of salt and sugar dissolved in water. Heat 1 quart of water and mix in the ½ cup of kosher salt and ⅓ cup of kosher sugar. When the water is heated and all salt and sugar are dissolved, remove from heat and allow to cool. Measure this mixture and add water to make ½ gallon (2 quarts) of total brine. This can be done days ahead of time, just keep the brine in the fridge.
Brining The Salmon – Brining the salmon can take place up to a day before you want to cook it. Add the salmon to the brine and allow it to sit in the brine for 30 minutes. We only need 30 minutes because fish is delicate and we are doing this to season the fish, not to preserve. After 30 minutes, remove the fish from the brine. The fish can be stored in the fridge or cooked right away.
Mixing The Glaze – The glaze is simple and will have everyone asking for this recipe. Combine the ½ cup of grainy mustard, 2 tablespoons of soy sauce, 1 teaspoon of garlic powder, and a pinch of pepper together. The brown sugar will be crumbled on top of the mustard after it is on the salmon.
Cooking – This salmon can be baked in the oven or made on the grill. If the fish was brined earlier and returned to the refrigerator, remove at least 30 minutes before putting it in the oven or on the grill. If you are afraid to grill fish, salmon will be a good first fish to try due to its firmer texture.
  Oven Cooking – Heat your oven to 350 degrees Fahrenheit. Take a cookie sheet and spray it with the cooking spray. Place the fish on the tray and season with pepper. Spread the mustard mixture on the salmon and crumble the brown sugar on top. Once your oven is hot, add the fish. We are looking to cook the salmon to 122 degrees Fahrenheit. Check after 15 minutes and every 5 minutes after; depending on size of portion and thickness of fish it could take 30 minutes to cook. Once it reaches 122, remove from the oven and cover loosely with foil and allow to rest for at least 10 minutes. Once rested, serve to your guests and enjoy.
  Grill Cooking – Preheat grill by turning all burners to high and allowing to heat completely. Take salmon and spread oil on one side and season with pepper to taste. Brush grill grates with a brush to clean and spread oil on grates using a paper towel dipped in oil. Set fish on the grill and turn off burners under salmon; we will cook it the rest of the way using indirect heat; close the grill lid. Once salmon has nice grill marks, about three minutes, flip fish over. Spread mustard mixture on salmon and crumble brown sugar on top. Close the grill lid and allow to cook for another 5 minutes, then check the temperature. We are looking to cook the salmon to 122 degrees Fahrenheit. Once it reaches 122, remove from the grill and cover looselt with foil and allow to rest for at least 10 minutes. Once rested, serve to your guests and enjoy.
1 can ceci (garbanzo beans)
2-3 cloves garlic (minced)
1 pound small or medium sea shells
1/4 cup chopped onions
7-8 tbsp olive oil
4-5 slices yellow American cheese
---
Saute onions and garlic in olive oil
Cook sea shells el dente – remember to add a little salt to the water
While sea shells are cooking, take some of the ceci and crush with a fork. Add the crushed ceci and the rest of the can to the saute. Add the cheese and let melt.
When the shells are done, drain but leave some water – more if you like it soupy and less if you don't – then combine with the saute.
Sprinkle some grated romano over each dish and serve. Add salt and pepper to taste. Try some hot pepper flakes if you like it spicy.
Optional – If you like, add some chopped vegetables to the saute and let cook for several minutes.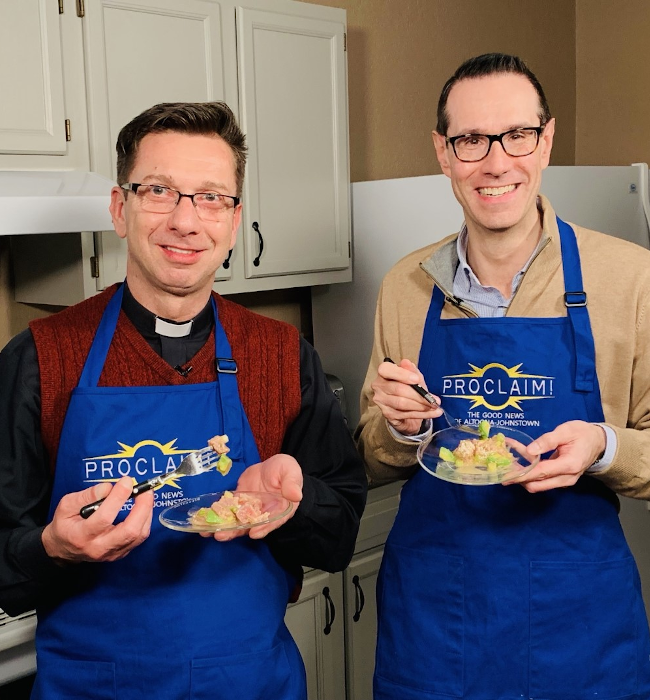 Very Rev. Lubomir Strecok, VF
Pastor of Sacred Heart Parish in Altoona
Administrator of Saint Mary Parish in Altoona
3 tuna steak
1/4 cups olive oil
3 limes, zest grated
Squeezed lime juice
½ teaspoons wasabi powder
½ tablespoons soy sauce
1 teaspoon hot red pepper sauce
½ teaspoon salt
½ teaspoon freshly ground black pepper
3 chopped scallions (white and green parts)
1 tablespoon jalapeno pepper paste
2 ripe avocados
½ tablespoons toasted sesame seeds (optional)
Father Brian Saylor
Pastor of Saint John the Evangelist Parish in Bellefonte,
and Saint Kateri Tekakwitha Parish in Spring Mills
1 1/3 cups flour
1 ½ teaspoons baking powder
½ teaspoon salt
1 teaspoon white sugar
1 can (14.75 oz) cream-style corn
1 large egg
1 tablespoon heavy cream
Vegetable oil for frying

—————————————————————————————————–
Whisk together flour, baking powder, salt, and sugar
Mix in corn, egg, and cream until mixture comes together
Line a plate with paper towels
Pour oil into a heavy skillet over medium-high heat
Once oil is hot, scoop mounds of corn batter into pan and spread lightly
Fry 2-3 minutes, then flip and cook another 2-3 minutes until golden brown
Transfer to paper towel
Father Leo Arnone
Pastor of Saint Aloysius and Saint
Francis Xavier Parishes in Cresson
2 cup Elbow Macaroni
Grated Cheese
Italian Seasoning
Crushed Red Pepper
Garlic Powder
6 Slices of Swiss Cheese
6 Slices of (your favorite cheese)
½ cup of Milk
Boil macaroni, but not completely done. Treat 7 x 11 casserole with olive oil spray. Place half the partially cooked macaroni into casserole. Sprinkle (to your liking) with grated cheese, Italian seasoning, crushed red pepper, and garlic powder. Place six slices of your favorite cheese (I like pepper jack, sharp cheder, habanero) on top. Add remaining macaroni and repeat sprinkling of grated cheese and spices. Top with six slices of Swiss cheese. Pour ½ cup of milk over the casserole and place in oven at 350 degrees until the top is golden brown. Upon serving, add extra grated cheese and fresh ground pepper as you like. Enjoy!