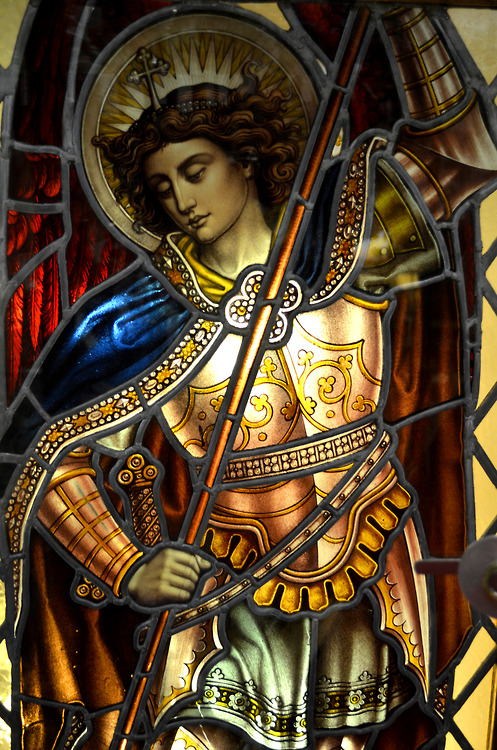 Saint Michael Celebration
By Tony DeGol
The Catholic Register
Most dads would love having their sons follow in their footsteps.
So one can only imagine the pride Scott Eckenrode, chief of the Loretto Community Volunteer Fire Company, must feel.
"I have two sons, one wants to be a fireman, one wants to be a police officer," Eckenrode admitted with a beaming smile.
One could also image the pride his sons – both students at Saint Michael School in Loretto – felt as they watched their father be recognized and receive a special blessing during a Mass in celebration of their school's patron.
The Eckenrode boys and their classmates were on hand for a Liturgy on Saturday, September 29 at the Basilica of Saint Michael the Archangel. The parish and school family gathered to observe the Feast of Saints Michael, Gabriel, and Raphael, Archangels.
"This Mass is rather special," acknowledged the Very Reverend John Byrnes, Rector of the Basilica and Judicial Vicar for the Diocese of Altoona-Johnstown. "Tonight is all about Michael's love for Jesus. Tonight is all about Michael's care for us. Tonight is all about those who live out Michael's courage and protection of us in our world today."
Father Byrnes reminded the Loretto faithful that their first pastor, the Prince-Priest and Servant of God Demetrius Gallitzin, chose Michael the Archangel as the parish patron and placed parish families under his care.
"Father Gallitzin wanted our parish to be a place of prayer," he continued. "That is the job of an angel – to pray. Angels are always attentive in prayer before God."
Saint Michael can inspire us to be curious and search for beauty, Father Byrnes offered. Michael is also a warrior against evil and a protector.
"That's why Saint Michael was chosen as the patron saint of firefighters, police officers, medical workers, first responders – all of those who serve in a time of crisis," he added. "When the alarm sounds, they have to make a quick and difficult decision, and so tonight we offer them special help from God. Tonight we offer you first responders who have graced us with your presence our prayers and our respect and thanks for your protection of us."
Eckenrode and other emergency responders came forward as Father Byrnes offered them a special blessing and the congregation affirmed them with applause.
Although that support is appreciated, Eckenrode explained that emergency responders do not seek acknowledgement or thanks. They simply want to help people.
Eckenrode, a native of Loretto and alum of Saint Michael School, also pointed out the lesson his service offers his sons. He coaches their baseball team, and often the alarm sounds at that time or during a family dinner.
"The boys know I'm going to help somebody," he said. "They know if nobody shows up, the situation could be a lot worse. They understand that."
Renee Phister, principal of Saint Michael School, wants the school children to realize the sacrifices some people make for others.
"What better way than to honor our volunteer firefighters and our EMS personnel from here in our own community?," posed Phister. "Many of the ones we honored today have children in our school. It is an important thing to show from generation to generation the importance of helping others."
Students came away from the Mass inspired by the emergency responders and the legacy of Saint Michael the Archangel.
Noted eighth grader JoAnna Hoover, "It makes me want to go and teach younger students about all that Saint Michael has done for us and everything Saint Michael has offered our church, our school, everything."