By Tony DeGol
The Catholic Register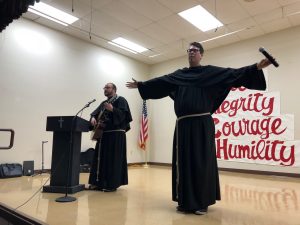 The words from that catchy old Mac Davis song sum it up well.
"Oh Lord, it's hard to be humble when you're perfect in every way."
The fact is, humility can be a challenge for any of us on life's journey – even children.
"Sometimes we can get very prideful," reminded Third Order Regular Franciscan Father Malachi Van Tassell. "We have gifts and talents, and we can strut our stuff and tell everybody how wonderful we are, but sometimes it's better to take the lower place and let somebody else go first."
Continued Father Malachi: "If you're in line in the cafeteria and there's one piece of chocolate cake left, and you love chocolate cake, you give it to somebody else. That's humility."
That simple example was just one part of an overall powerful message for Catholic elementary school students in the Prince Gallitzin quadrant on Thursday, September 20.
All Saints School in Cresson, Holy Name School in Ebensburg, Northern Cambria Catholic School in Nicktown, Saint Benedict School in Carrolltown, and Saint Michael School in Loretto gathered to launch the RICH program, a new initiative in all Catholic schools in the diocese this academic year.
RICH is an acronym for Respect, Integrity, Courage, and Humility.
As schools kickoff the program, Saint Michael principal Renee Phister invited fellow quadrant schools to Loretto for an assembly highlighting the qualities of RICH.
Father Malachi, president of Saint Francis University in Loretto, was the keynote speaker. Prior to his comments, Third Order Regular Franciscan Brothers Rufino Corona and Stephen Waruszewski, shared songs, prayer, and the stories of saints whose lives embody the RICH characteristics.
Saint Mother Teresa is an example of Respect, they told their captive audience – all sporting red "Christ is RICH in Me" T-shirts.
"The big thing about Mother Teresa is she is famous for caring for the poor and needy," said Brother Stephen. "She respected those in need."
Saint Nicholas, he continued, is a model of Integrity – a big word for some.
"The best way I can explain it is being who God wants you to be – being true to yourself and acting well," Brother Stephen noted.
When one thinks of Courage, Saint Joan of Arc comes to mind, remarked Brother Rufino.
"She was a young teenage girl from a small town in France, and she felt God calling her into battle," he informed the students.
Saint Francis of Assisi, Brother Rufino said, is an example of Humility.
"Francis was humble in just leaving everything aside and completely following God," he added.
Father Malachi shared a secret with the kids. Student athletes at Saint Francis often complain about the demands their coaches make on them in training and practices. When the athletes succeed, however, they love their coach.
"The point is – when you're training for a race, when you're training to be a person of integrity and discipline, it's hard and it's not always fun, but when you win the prize, you're glad you practiced really hard," he stressed. "That is the Catholic Church and its moral code. The Catholic Church has a moral code that we follow not because it's easy, but because we want to be good Catholics who get to Heaven."
Throughout the year, each school will offer various activities to spotlight the RICH program.
"I think students need to be taught these important values, and I think that it just reminds each of us daily – by the RICH in Christ program – to stress these and to be the people Jesus wants us to be," said Theresa Burba, principal of Northern Cambria Catholic School.
"This is an awesome experience for all of us – especially today joining with the other schools in the quadrant – just to make our Catholicity more aware within our own school and within the diocese," added Saint Benedict Principal Jeff Maucieri.
"By doing a kickoff like this and showing our unity, it's more memorable," observed Phister. "The students will remember the lessons they have learned here today as they are taught these things throughout the school year."
If social media is any indication, students loved the gathering.
A post about the event soared on the Diocese of Altoona-Johnstown Facebook page, and there was no shortage of encouraging feedback.
"My daughter loved this," stated Lisa Smith. "Especially the music. She was soooo excited for this. Thanks for doing it."
Posted Ann Kochara Scholzen: "My children enjoyed this so much! Thank you all."
Amanda Wills Zaliznock commented: "My son loved every minute of this 'field trip.' He came home and told us all about it and loved the music and the guitar!! Thank you sooo much for putting this program together for our children."
Added Donna Yokitis: "Our grandson really enjoyed the program today. Thank you so much. Blessings."
And with a thumbs-up emoji, Rose Wolf Beiswenger posted: "Very nice. Great for the children."