By Tony DeGol
The Catholic Register
Make no mistake: the Catholic faith is not going to the dogs!
The dogs did come to the Catholic faith, however, along with cats and even a chicken.
In celebration of Saint Francis of Assisi, the patron saint of animals, some parishes in the diocese sponsored pet blessings on or around his feast day earlier this month.
Sacred Heart Parish in Altoona welcomed pet owners and their furry friends on Saturday, October 6.
"I think it is very important to realize that those pets are God's creatures," said the Very Reverend Lubomir Strecok, pastor of Sacred Heart and administrator of Saint Mary Parish in Altoona. "We need to realize that they are great companions. We need to protect them and care for them."
Dogs give unconditional love, reminded Debbie Bartley, a parishioner at Saint Mary.
Her pooch, Bella, was a birthday gift from her children not long after the passing of her mother.
Bella has been a great companion to Bartley, and attending the pet blessing was a no-brainer.
"I have always had a great love of Saint Francis of Assisi, and he loved animals," she said. "I've always had my dogs blessed."
Art and Hannah Wilkin, members of Sacred Heart, brought their Airedale, Reesie.
"She's a member of the family and Saint Francis is my favorite saint," stated Hannah. "The dog is always forgiving. If we don't let her have something, she doesn't hold it against us."
Added Art: "She's always happy to see us."
Holding her 13-week old puppy, Wilson, on his leash, Phyllis Russo is reminded how much work young dogs can be. It's all worth it when you consider how much company and fun they offer.
"My husband and I always say we don't have to go out and get entertainment because we have our own entertainment at home," said the Sacred Heart parishioner, who also has three other dogs.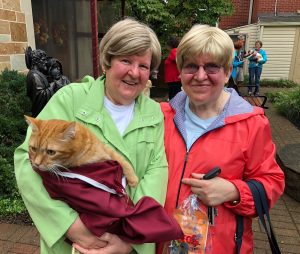 Siblings Alice and Helen Romerowicz, members of Our Lady of Mount Carmel Parish in Altoona, adore their cat of 12 years, Cinnamon, and often bring him for blessings to keep him healthy.
"I think animals are great to have," Alice mentioned. "I think they keep you company, they keep you stable, they leave the stress out of you."
Her sister offered another benefit.
"You can talk to them, and they don't talk back," joked Helen while holding the fluffy feline. "You can unload all of your problems, and they just sit there and listen. They don't have any comments one way or the other."
Ron and Tina Johnston enjoyed bringing their dogs, Bailey and Rusty, and to the blessing.
"I'm a big fan of Saint Francis," Tina revealed. "He's kind of a role model."
The Johnstons, members of Saint Mary, love taking walks and playing with their four-legged family members. Tina, a teacher, even has the dogs perform in her school's talent show at the end of each year.
The Compton family of Sacred Heart brought Jackie, one of their 11 pet chickens.
How hard is it to raise chickens?
"Not very," reported young Vivienne Compton. "Just give them food, and water, and a place to sleep."
The family also has two cats, but they stayed at home because, in the words of Vivienne, they scream.
The Comptons attended the blessing last year, too.
"It just seems like a good idea – you can keep her alive another year, I guess," theorized Vivienne as she kept an eye on Jackie.
"I think she needs blessed," chuckled Sacred Heart member Diana Hite, holding her dog, Gigi. "We all need blessed, don't we? I just want her to be good and healthy."
After reading Scripture amid the many barks, Father Strecok blessed each animal with holy water.
A Sacred Heart parishioner donated pet treats for each pet owner to take home.