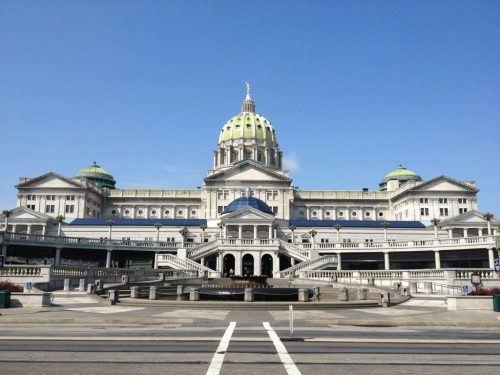 PCC Column – Budget Round Up
State Budget Round Up for 2017-2018
by A.B. Hill
PCC Communications Director
Governor Tom Wolf announced his decision to let the General Assembly's $32 billion FY 2017-2018 spending plan become law without his signature, despite the legislature's unresolved negotiations for the revenue to back it up. The governor said he hopes that lawmakers "will come together to pass a responsible solution to balance our books."
The legislature is considering different revenue options including borrowing from other dedicated funds and expanding gambling, but holding the line on sales and personal income taxes. They must find a way to close the $2.2 billion gap.
The Pennsylvania Catholic Conference (PCC) and the Pennsylvania Catholic Health Association (PCHA) tracks many elements of the budget debate, especially those line items that help families and assist the poor.
Education
Thanks to a strong expression of grassroots support, many more students could get scholarships to attend the school of their choice next year. The number of tax credits available for the Educational Improvement Tax Credit (EITC) program in the spending plan will increase by $20 million. The companion program, Opportunity Scholarship Tax Credits (OSTC), which gives the same kind of scholarships to students who live in underperforming school districts, remained the same with no cuts. When the legislature passes the school code bill, the increased tax credits will be authorized.
The tax credit scholarships have been an investment that has paid dividends for students seeking a Catholic or other private education in Pennsylvania. Every Catholic school in all corners of this great Commonwealth benefits from the EITC or OSTC programs.
Each year more than 40,000 families get a scholarship that permits the parents to send their children to a school that best meets their needs. It gives these families a true choice in the right educational path for their children.
Social Concerns
The state constitution requires the state and local governments to provide for the health, safety, and welfare of citizens, especially the poor such as "mothers having dependent children and aged persons without adequate means of support." (PA Constitution, Article III, §29)
Funding for these human services was cut in some areas, but for the most part it was kept at the same level as last year. Catholic charities and social service agencies often partner with local governments to deliver these services to people in need. For example, local crisis pregnancy centers administer the state's alternative to abortion program, that supports women through their pregnancy and up to the first year of their child's life. This state funded program has helped thousands of mothers choose life for their babies.
Health Care
Line items that fund Pennsylvania's obstetrical/neonatal services, burn and trauma centers, and critical access hospitals remained the same; this is welcome news to PCHA and the Hospital & Health System Association of PA (HAP). The overall impact of the state budget on health care can be complicated. Questions about Medicaid and health care access for the poor remain unanswered as the debate in Washington, DC, continues.
The PCC and PCHA track and monitor many bills and proposed regulations in addition to the state budget. Stay up to date on all issues by visiting www.pacatholic.org, or lend your voice to the debate by sending a message through the Catholic Advocacy Network.