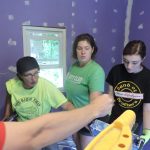 Fifty seven people returned Sunday July 30th from a four day mission trip to Webster County, WV. The trip was organized by Resurrection Roman Catholic Church in Johnstown and included participants from seven different parishes in the area and some other people from other Christian Faith groups.
The mission team were able to help nine families in one of the poorest counties in West Virginia. The projects included:
1)Replace floor and joists in two rooms
2) Paint the exterior of a house
3) Install new flooring, a window and move two 220 lines in a home
4) Replace a sink base, replace a floor, paint and repair walls and build new storage shelves in a kitchen
5) Build and install new floor joists over a trailer to stop the roof from collapsing
6) Install vinyl siding and 8 windows on a home
7) Replace bedroom floor and fix ceiling on a home
8) Install hot water service, a tub (one did not exist) sink, electric heat and dry wall.
9) Insulation the bottom of home that was just built by another work group to replace a couple's home that was destroyed in a wind storm
The group completed several of the projects in their entirety. Three of the jobs will be completed by another mission group that serves the area out of Charlestown, WV, in the fall.
In addition to the projects at homes throughout the county the group also helped organize catholic charities, did step repair on the building and hosted a dinner for local people during their stay.
This is the fifth year that Resurrection has coordinated this trip. All the material and funds for the trip are donated through efforts of the teams to raise the money and materials need to complete the projects and pay for the cost of food and transportation. The group sleeps on the floor of the local Catholic Charities office during the four day trip. Each day of trip begins with mass and ends with prayer and discussion on how God works through us to help others and how those works impact the people going on the trip. Confirmation students receive service hours for the trip and are also required to participate fully in mass and prayer including prayer before projects, meals and night prayer.
[Story and photos submitted by Terry Deitz, Parishioner, Ressurection Parish]