100% of your gift supports 14 ministries like Priests' Vocations!
In 2017, two men became priests. Today, there are four seminarians following Jesus' footsteps.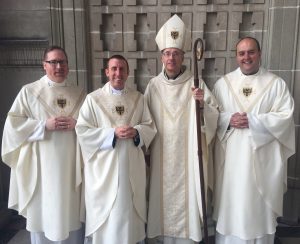 A story of Faith, Hope, and Charity
When Jonathan Dickson and Peter Crowe heard the words, "Come, follow me," they knew they would need some help.
As young men who already had college degrees and were working in the business world, their first call to the Priesthood was a cautious one. But, after much prayer and the support of others, the two men embraced the journey and both were ordained in May 2017—the first priests in our Diocese ordained in six years.
The path to becoming a priest is a lengthy one – many years of study and preparation—learning to preach the Gospel, celebrating weddings and baptisms, visiting the sick and homebound, shouldering the pain of those grieving, and a litany of other on-call duties, sometimes requiring a 24/7 presence.
The education is also a costly one. Seminary has tuition and expenses and to help ease their burden, the Diocese offers support to young men in formation for the Priesthood.
[Photo (left to right) Father Matthew Reese, Diocesan Director of Vocations; Father Peter Crowe; Bishop Mark; Father Jonathan Dickson]
—–
Your support will provide the spiritual, intellectual, and pastoral tools for these young men to learn and teach the greatest joys of following Jesus Christ.
Your gift can be mailed to the Diocese of Altoona-Johnstown, P.O. Box 409, Hollidaysburg, PA 16648; placed in your parish offertory; or made online.