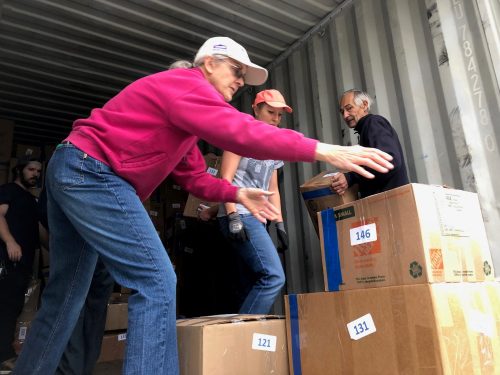 Hands and Hearts Haiti Ministry
By Tony DeGol
The Catholic Register
Anyone who is apprehensive about new experiences can probably relate with Patty Troutwein these days.
A member of Saint Patrick Parish in Newry, Troutwein is getting ready for her first mission trip to Haiti.
"I have a little anxiety, I guess, because it's totally new, and I don't do new things easily," she admitted.
Although this will be her first visit to the island nation, she already enjoys a powerful connection to the good people who live there.
For the past several years, Troutwein and some of her fellow parishioners have been making quilts to send to Haiti as part of the Carmelite Community of the Word's Hands and Hearts Haiti Ministry. The CCW is a diocesan community of religious sisters.
"When we heard that children were sleeping on the floor without a blanket, we said that's just not fair," she recalled.
Every year, the women make an increasing number of quilts and have a lot of fun along the way.
"We have got a fellowship of Christian ladies that's just wonderful," Troutwein said. "We get together every week, and we laugh, talk, share prayers, and quilt."
Accompanying Troutwein on the journey in January will be folks from the CCW and elsewhere in the diocese.
Mary Beth Schmidhamer will be making her seventh trip to Haiti.
"The first time I went, I fell in love with the place," the parishioner of Saint Therese of the Child Jesus in Altoona noted. "To know that the things we are gathering and packing are things that they need and they're going to use, it's just in my blood."
Each year, items such as toiletries, school supplies, furniture, blankets, and even bicycles are collected throughout Altoona-Johnstown and sent to the CCW Incarnation Center in Gallitzin. Sister Marilyn Welch, administrator general of the community, and her team of volunteers spend weeks organizing and packing the goods to be loaded onto a sea container.
Schmidhamer, Troutwein, and others gathered at the Incarnation Center on Friday, October 5 to load the container – the culmination of yet another year's worth of generosity from throughout the diocese, said Carmelite Community of the Word Sister Cindy Burns.
"And I really mean that when I say this is a diocesan effort," she stressed. "We have people bringing things from Johnstown, Newry, Altoona, State College, everywhere throughout the diocese. I'm just so proud of everybody."
The packed sea container will travel to Haiti, and when the local delegation arrives in January, the items will be unloaded and distributed.
The Hands and Hearts Ministry sprung out of a bond between the CCW sisters and the Little Sisters of the Incarnation in Haiti.
"When our group goes there, it isn't just to give them monetary goods or physical things," added Sister Cindy. "It's to pray with them, it's to be sisters together. That's the really big connection. The visits were begun to connect with them on a spiritual and friendship level. That relationship is still the core of why we do this."
Sister Cindy reminded that Haiti is the poorest country in the western hemisphere.
"They don't have anything comparable to what we have here," she continued. "We have to share with them. Jesus said reach out, feed the hungry, take care of the poor. That's really what we're trying to do. The Little Sisters don't have every resource to help the poor they work with. They need help, and it's our responsibility to help them."
Seeing the poverty first hand is an eye opener, Schmidhamer revealed.
"We come back from there thinking we are so blessed because we have so much," she added. "And when we come back, we come back richer than when we left. It's something you really have to experience."
Despite the anxiety of a new adventure, Troutwein realizes it will be the experience of a lifetime.
"I'm excited about it," she stated. "I expect to see a lot of beauty, a lot of caring, and a lot of love."