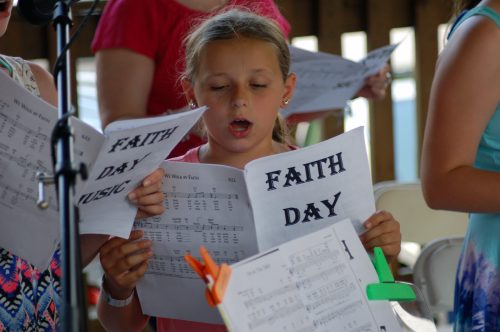 Faith Day 2017 was held on July 2 at DelGrosso's Amusement Park in Tipton.
Bishop Mark celebrated Mass on the park stage. During his homily, the Bishop said, "The love of Jesus tells us very plainly in the Gospel reading to take up our cross and follow him. We all have crosses. We are reminded that in order to take up our cross, we must first embrace the cross of Jesus Christ who is present to us today in this celebration of the Holy Eucharist. And the reward is found in the very reason we have come here today. Enjoy the food, fun, family, and friendship. They are signs of God's love, which is the only reward we need."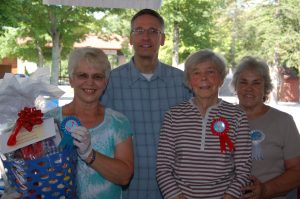 As part of faith day, the Diocese sponsored a DAJ Best Dessert Contest. Folks were invited to submit a dessert to be judged by a panel including Bishop Mark, two priests, a seminarian, a deacon, and a religious sister. A Summer Layer Dessert, submitted by Barbara Bundy of Saint John the Evangelist Parish in Altoona, was the winner.
Recipe:
Summer Layer Dessert
1st Layer:
1 cup of flour
½ cup finely chopped pecans (or walnuts)
½ cup butter – (room temperature)
Combine and press into a 9X13" pan, bake at 350 degrees for 20 minutes. Cool.
2nd Layer:
8 ounces cream cheese (room temperature)
1 cup powdered sugar
1 cup Cool Whip
Blend and spread over the cooled crust
3rd Layer:
2 pkg. (3 oz.) instant pudding (I used coconut, but any flavor can be used)
3 cups cold milk
Blend with mixer. I added 1 cup of coconut to the pudding. Spread on top of the cream cheese layer.
4th Layer:
Spread the rest of the 9-oz. carton of Cool Whip on top. I put more coconut on top.
[PHOTO: Bishop Mark with dessert contest winners (left to right) Barbara Bundy (first place), Charlene Thompson (second place), and Elizabeth Miller (third place)]