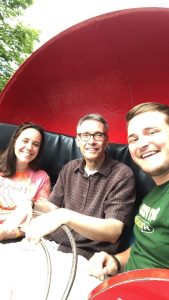 The Diocese of Altoona-Johnstown celebrated Faith Day 2018 on June 24 at DelGrosso's Amusement Park in Tipton. Bishop Mark celebrated Mass on the park stage with hundreds of faithful in attendance. The Liturgy began with a Family Faith Procession, which included representatives of various parishes throughout the Diocese.
Following Mass, the DAJ Best Dessert Contest was held. Mary Gebhardt, a member of Saint Catherine of Siena Parish claimed first prize with her Coconut Cream Ice Cream Cake, Father Robert Reese, Pastor of Saint Joan of Arc Parish in Frugality and Saint Thomas Aquinas Parish in Ashville came in second, and Heather Leskovansky of Saint John the Evangelist Parish in Bellefonte took third place.
A picnic supper was served, and Bishop Mark enjoyed rides with many of the young adults in attendance.