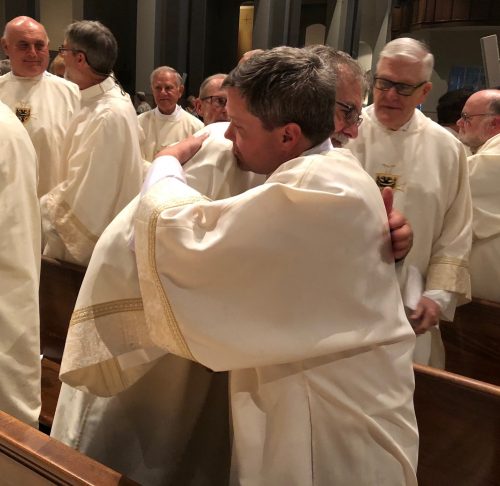 By Tony DeGol
The Catholic Register
Being a deacon has changed Don Gibboney in many ways.
It has especially centered his life on service.
"Following that role of Christ the servant and ministering to those who are in need and taking that love of Christ wherever I go with me, it has become the main focus of my life since ordination," concluded Deacon Gibboney.
Ordained in 2016 and appointed to diaconal service at Most Holy Trinity Parish in Huntingdon, he is engaged in Christian Initiation, outreach to nursing homes, training liturgical ministers, and more.
As he labors in the vineyard, he appreciates the support and encouragement from the faithful.
"It's a real sign that, yes, this is making a difference and it is helping people in their relationship with Christ, so it means a lot to have the support of the parish and the support of the parishioners in my ministry," he said.
Deacon Gibboney joined many of his brother deacons and their wives for a Mass in celebration of the 50th anniversary of the restoration of the Permanent Diaconate in America on Monday, September 17 at the Cathedral of the Blessed Sacrament in Altoona.
There have been numerous articles and books about the diaconate in observance of the milestone, noted Bishop Mark L. Bartchak in his homily.
Pope Francis, he added, told deacons earlier this year that if they show that they are available to others, their ministry will be "evangelically fruitful."
So what does that mean, the Bishop asked.
"One way to measure the fruitfulness of diaconal ministry is through the comments and observations of those who are served by the deacon," he proposed.
The Bishop also encouraged deacons to ask themselves what grace and insight they receive from a particular ministerial experience.
"That might sound self-serving, but it is important to know that if we lack the love, the faith, and the joy of being an ordained minister of the Church, we ought to find out as soon as possible what's missing," he said. "At the same time, it goes a long way in your realization every day that even the smallest experience can bring another person closer to the merciful love of Jesus Christ."
It is evident that Deacon Jack Orlandi strives to bring the love and mercy of God to even those society tends to forget.
In diaconal service at Good Shepherd Parish in Port Matilda, he is also engaged in prison ministry.
"People ask me what the guys or ladies have done inside the prison," commented Deacon Orlandi, who was ordained in 2009. "That's not up to me to know. The state has already taken care of that. I'm there to bring the spirituality that they're looking for."
Besides prison ministry and parish ministry, some deacons are active in hospital ministry. Deacons also visit the homebound and nursing homes. They teach and conduct Bible study.
"We have deacons in this diocese who are involved in all of those ministries and then some," stressed Deacon Michael Russo, director of the Permanent Diaconate. "They're bringing ideas to their pastors, they're bringing ideas to the Bishop and saying 'I think I'd like to try this or do this,' and that is what we are here for. We are here to see where the ministerial needs of the church are. Once we receive permission to go ahead in these ministries, we roll up our sleeves and begin to build them, and by doing so we are working in the trenches with the people."
The support of a deacon's spouse is critical in his formation and ministry.
"Many times the wife of a deacon is right on his arm assisting him in introducing new ministries and assisting him in growing other educational opportunities in the parish," Deacon Russo added.
There are 36 deacons in Altoona-Johnstown, and vocations to the Permanent Diaconate are encouraging, Deacon Russo remarked. There are currently about 17 men in some stage of formation.
"To have this 50th anniversary celebration is a tremendous milestone because it puts the vocation front and forward again," said Deacon Russo, adding that hopefully more people will ask questions about the ministry of the Permanent Diaconate and seriously consider if God is calling them.
"In many cases, God is, and we have to listen very carefully for that call because He's calling us to be involved in the very families that we gather around and worship with every single week," he reminded.
"Celebrating this 50th anniversary is a very good thing to do for all of us," Bishop Mark said. "It's a reminder that deacons are integral to the ministry and mission of the Church, especially in our Diocese of Altoona-Johnstown."
The observance, he continued, is also a reminder that we are called to walk with each other in our faith journey.
"Today we say to our deacons and their spouses and families who support them, thank you for your service," stated the Bishop. "Please know that all of us, through prayer and words of encouragement, wish to support you in your efforts for the good of God's people."