Catholic Life Day of Reflection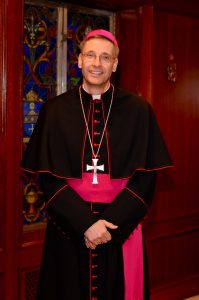 The Parish Life Office of the Diocese of Altoona-Johnstown will sponsor a Catholic Life Day of Reflection on September 30 at the Bertschi Center at Mount Aloysius College in Cresson.
Bishop Mark will deliver the keynote address focusing on the theme of the day — "The Virtue of Magnanimity." Pope Emeritus Benedict XVI noted that in our time, we have lost the art of living and loving in such a big way. Magnanimity is the crucial life skill (virtue) of living and loving in a positive, intentional, big way.
Also scheduled for the Day of Reflection — a spiritual reflection presented by Monsignor Robert Mazur, Rector of the Cathedral of the Blessed Sacrament and Diocesan Director of Liturgy. Monsignor Mazur will guide the participants in a personal prayer experience on Hope.
Schedule for the Day:
8:15 a.m. Registration Begins
8:30 a.m. Mass with Bishop Mark
9:30 a.m. Registration Continues/Coffee and donuts
9:45 a.m. Keynote Address – "The Virtue of Magnanimity" (Bishop Mark, presenter)
10:45 a.m. Break and Continental Breakfast
11:00 a.m. Spiritual Reflection – "Living a Virtuous Hope-Filled Life" (Monsignor Robert Mazur, presenter)
Noon – Closing/Dismissal
The cost is $10 per person, which must be paid at the time of registration, or $8.00 per person if three or more registrations are submitted together from the same parish. The registration deadline is September 22.
Please click below for a registration brochure.
Please mail registrations to:
Catholic Life Day of Reflection
c/o 5379 Portage Street
Lilly, PA 15938-1091
The fee to register at the door is $20.
No phone registrations will be accepted.