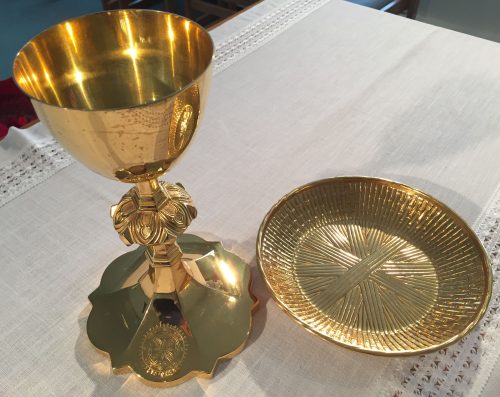 Campus Ministers Commissioned
By Tony DeGol
The Catholic Register
It is no secret that the Catholic Church is working hard to keep young adults in the pews.
If everyone in that age group was like Patrick Sprigler, the effort would likely be a lot easier.
A resident of Columbus, Ohio, and sophomore at Saint Francis University in Loretto, Sprigler has made the choice to stay engaged in his Catholic faith through active participation in SFU campus ministry.
It is a decision that has yielded many blessings.
"Coming from out of state and not knowing anyone here was a big change," recalled Sprigler of his arrival at SFU last year. "Campus Ministry allowed me not to reinvent myself, but to project myself in a different fashion."
The Physician Assistant major credits his engagement in campus ministry with the many friends he has made, including some of the Franciscan friars.
Sprigler is involved in the university's Peer Ministry program, which aims to build community as students – especially freshmen – transition from home to school.
The outstanding campus ministry programs offered at colleges and universities throughout the diocese were celebrated on Wednesday, September 12 when Bishop Mark L. Bartchak commissioned campus ministers during a special Liturgy. The Mass was celebrated at the Immaculate Conception Chapel at Saint Francis University.
Third Order Regular Franciscan Brother Stephen Waruszewski is a campus minister at SFU.
"It is a place for them to grow in their faith," he said. "When students come to college, they're leaving home and they're making adult decisions. This is a great opportunity for them to make a choice of faith on their own."
Campus ministry offers opportunities for students to continue their faith journey while in school, added Paul Girardi, associate director of campus ministry at Saint Francis.
"We were all made for relationships, and campus ministry is very relational, so students have an opportunity to meet other young people of faith and walk with them on their journey," he said.
All faith-based clubs at SFU are under the campus ministry umbrella.
"We're constantly engaging one another here on campus, and you're meeting people from other faith traditions and the commonalities really bring us together," Girardi observed.
Not far from Saint Francis University, Mount Aloysius College in Cresson strives to carry on the Catholic tradition in the spirit of the Sisters of Mercy.
"We understand that spiritual development is crucial to a student's academic success," said Chris Koren, executive director of Mission Integration and Community Engagement. "At Mount Aloysius, we're equipped to handle that area of growth through our different programs, initiatives, and services that we offer to any student."
Mount Aloysius Campus Minister Amy Kanich pointed out that about 80 percent of students start to question their faith when they enter college, according to recent statistics.
"What we do is a variety of programs that allows them to explore their faith on their own," she mentioned.
Among those programs are retreats, workshops, and Bible studies.
Being a part of campus ministry is wonderful, but Andre McCarville, campus minister at Penn State Altoona, yearns for students to take a deeper step.
"That's really where the benefit lies – when they have the encounter with Christ, that life- changing moment when they know they want to follow Him and they know their life has meaning and purpose," he said. "That changes your vision, that changes the way you see what you're going to do with your life, it changes the way you see each other and how we're supposed to interact with each other. That to me is the whole purpose of campus ministry – to encourage that connection to Christ so that from now on, life makes sense."
During the commissioning ceremony, Bishop Mark reminded the ministers that to be effective in their ministry, they must be examples of Christian living in faith and conduct and strive to grow in holiness. He urged them to always bear in mind the words of Jesus: "This is my commandment, that you should love one another as I have loved you."
For Sprigler, being Catholic has always been a big part of his life, and he does not expect that to change.
He just applied to be part of the Knights of Columbus, and as he looks ahead to the next decade or so, he hopes to remain active in the Church by serving as an extraordinary minister of Holy Communion, lector, or usher.
"I'm happy to serve the Church in any way I can," he stressed. "It's a very core and central part of who I am, and I don't think it's something that I'll ever give up."