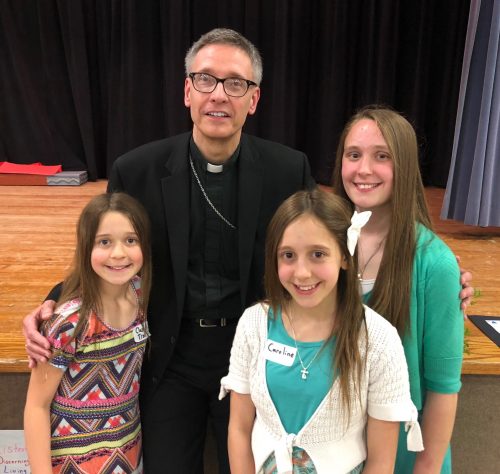 Bishop's Night for Vocations
The annual Bishop's Night for Vocations was held on May 11 at Bishop Carroll Catholic High School in Ebensburg. Sponsored by the Serra Club of Cambria County and the Diocesan Vocations Office, Bishop Mark was the host. He recognized the student winners of the poster, poetry, and essay contests. The contest entries reflected the theme for the event, "Listening. Discerning. Living." That theme was inspired by Pope Francis' message for the 2018 World Day of Prayer for Vocations, which was observed in the Catholic Church on the Fourth Sunday of Easter.
The featured speaker was Sister Joseph Andrew Bogdanowicz, OP, Vocations Director of the Dominican Sisters of Mary, Mother of the Eucharist, based in Ann Arbor, Michigan. Sister is pictured in the center of the right photo.
"Whenever there is life fervor and the desire to bring Christ to others, vocations will come," Sister Joseph Andrew told the crowd of nearly 300. "When a young person understands what God has made them for, they will become a person in that manner. God wants us to be a vocation. You know when you are called to a vocation."
A special part of the evening was the presentation of a new award by the Serra Club — the Holy Spirit Award. Rachel Hall, a parishioner at Saint John Gualbert Cathedral in Johnstown and senior at Bishop McCort Catholic High School in Johnstown, was the inaugural recipient. Rachel won based on an essay she wrote for the event.
"At first I felt that God was not listening to me, but then one day, right after my aunt died, who was my role model, I began to understand that anything, whether good or bad, was happening for a reason," Rachel wrote. "I heard God telling me that He has my life planned out for me, and I just need to listen to Him."