Catholic Charities Recognition Dinner
Catholic Charities of the Diocese of Altoona-Johnstown hosted its annual Recognition Dinner on May 30 at the Casino at Lakemont Park in Altoona.
The agency honored three adults with the 2018 Monsignor William M. Griffin Humanitarian Award and six young people with the Matthew 25 Youth Humanitarian Award.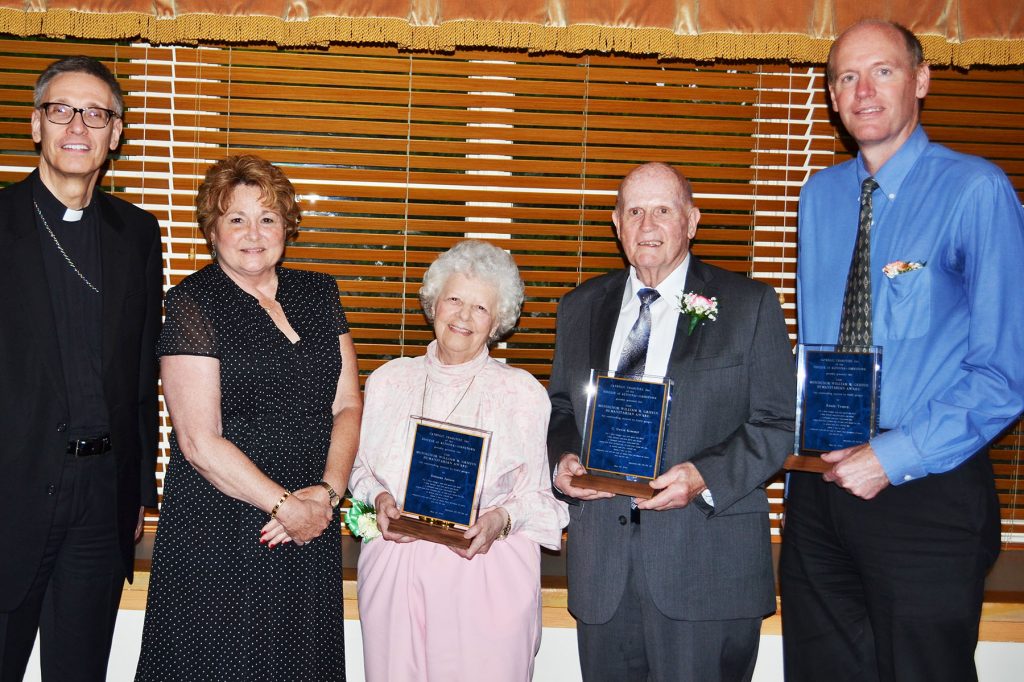 MONSIGNOR WILLIAM M. GRIFFIN AWARD
Award recognizes persons demonstrating a significant, long-term commitment (professional or volunteer) to serving the poor, marginalized, and most vulnerable within our Diocesan community (Bedford, Blair, Cambria, Centre, Clinton, Fulton, Huntingdon, and Somerset Counties).
C. DAVID KIMMEL
CATHEDRAL OF THE BLESSED SACRAMENT, ALTOONA
Dave accepted a position on the Catholic Charities Advisory Board in June 2009. He came to the board with a wealth of marketing, development, and communications experience with Mercy Hospital/Bon Secours-Holy Family Hospital, Penn State Altoona and the American Cancer Society. Devoting a major part of his working life to the sick, Dave used his extensive skill set help with the annual Relays for Life, hospital events to raise funds for new equipment and services, and developing materials for patients and the community. He also co-sponsored a successful $1.2 million Cathedral of the Blessed Sacrament Parish Capital Campaign in 2015.
DELORES SPINOS
SAINT ANTHONY OF PADUA PARISH, WINDBER
Delores sares for the spiritual needs of residents at The Church of the Brethren Home Campus – first as a registered nurse, then as a volunteer. She arranges for fun activities for the residents at the home. She has organized cookie and pie socials, root beer float & banana split parties, Christmas tree decorating with music and singing with the church's Mission Team. She greets all new residents and arranges for their anointing and Communion.
RANDY TARPEY
As a Certified Public Accountant, tax preparation is Randy's professional focus including simple returns done economically and complex returns prepared properly. In addition to his tax work, Randy has experience working with the state's many incentive programs for small businesses, as well as assisting with tax credit sales for large companies. His biggest passion is working as a volunteer for the Central Pennsylvania Scholarship Fund, assisting donors and other charities with navigating the PA Educational Improvement Tax Credit Programs. The EITC program provides millions of dollars to local schools for financial aid, all of which Randy manages and oversees as a volunteer. His ability to provide this service to students impacts thousands of students each year and allows them to attend a school of their choice.
MATTHEW 25 YOUTH HUMANITARIAN AWARD
Award recognizes elementary and high school students who demonstrate exceptional service to their communities, specifically to the poor and needy.
LUCAS FREDERICK
MOST HOLY TRINITY PARISH, HUNTINGDON
RACHEL HALL
BISHOP McCORT CATHOLIC HIGH SCHOOL, JOHNSTOWN
SAINT JOHN GUALBERT CATHEDRAL PARISH, JOHNSTOWN
KAITLYN KASISKY
DIVINE MERCY CATHOLIC ACADEMY, JOHNSTOWN
CAROLYN TELFER
SAINT ANTHONY OF PADUA PARISH, WINDBER
NATHANIEL McCLAIN
MOST HOLY TRINITY PARISH, HUNTINGDON
SARAH ZAKRZWSKI
BISHOP GUILFOYLE CATHOLIC HIGH SCHOOL, ALTOONA