2023 Men's Conference - "STRENGTH IN CHRIST: Be Not Afraid"
An inspiring Catholic priest and a nationally recognized author will headline the 2023 Diocese of Altoona-Johnstown men's conference "STRENGTH IN CHRIST – Be Not Afraid". The conference is scheduled for
April 29 from 9:00 AM until 3:30 PM at Mount Aloysius College in Cresson.
Speakers will be Father Joe Freedy, a priest of the Diocese of Pittsburgh, and Gary Zimak, a Catholic
evangelist and author who is recognized as the leading speaker on the topic of overcoming anxiety.
Bishop Mark will celebrate Mass at 4:00 PM. The day will also include brief presentations from local parishioners to inspire men to put their faith into action at the parish level. The Sacrament of Reconciliation will be celebrated, and lunch will be provided.
Registration is required by
Friday, April 14

. The cost is $20 per person; $10 for college and high school students.
Register online by clicking the link below, or pick up a registration form at any parish in the diocese.
Meet Our Featured Speakers!
Father Joe Freedy was a standout quarterback at Bethel Park High School and played on the University of Buffalo football team from 1999 to 2001, competing against future NFL stars like Ben Roethlisberger. However, he felt a void in his life, and began taking his Catholic faith more seriously, beginning with prayer.

He entered Saint Paul Seminary, and received a Bachelor of Sacred Theology from the Pontifical Gregorian University in Rome in 2008. He also received a Licentiate in Sacred Theology the following year from the Pontifical University of Saint Thomas Aquinas in Rome.

Among his many assignments in the Diocese of Pittsburgh, he was the Director of the Vocations Office from 2010 until 2017. He currently serves as the Senior Parochial Vicar at Divine Mercy Parish in Pittsburgh.
Gary Zimak is a frequent speaker at parishes and conferences across the country and is recognized as the leading Catholic speaker on the topic of overcoming anxiety. He has touched thousands with his live talks, parish missions, and retreats. In addition, Gary is a regular guest on EWTN TV & Radio, Relevant Radio, the host of The Gary Zimak Show podcast on Breadbox Media, and was the creator and host of Spirit in the Morning, which aired on Holy Spirit Radio in Philadelphia from 2016-2018. His work has appeared in The National Catholic Register, Catholic Digest, Catholic Exchange, Catholic Philly, and Seton Magazine.
Gary is the author of several books, including "Stop Worrying and Start Living", "From Fear To Faith", "Give Up Worry for Lent", "A Worrier's Guide To The Bible", "Listen To Your Blessed Mother", "Find A Real Friend In Jesus", and "Faith, Hope, and Clarity". Gary resides in South Jersey with his wife Eileen and daughters Mary and Elizabeth. They are members of Saint Mary of the Lakes Parish in Medford, NJ.
12:00 PM - Lunch
The conference will begin with all attendees gathering together for a lunch.
Speaker Presentations
Hear talks from our featured speakers: UFC champion and movie star Bas Rutten, professional soccer player turned priest Father Chase Hilgenbrinck, and power evangelist and preacher Deacon Harold Burke-Sivers.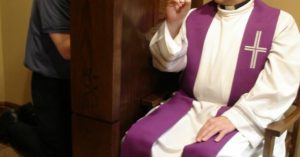 Reconciliation
There will be an opportunity for participants to celebrate the Sacrament of Reconciliation.
5:00 PM - Closing Mass
End the conference day with a gathering for Mass, celebrated by Bishop Mark. The Mass is open to the families of all the attendees.
The Diocese of Altoona-Johnstown extends its gratitude to our sponsoring partners for helping to make this year's Men's Conference possible: