Catholics are called to be faithful citizens, which includes studying issues, knowing where candidates for public office stand on the issues, and exercising one's right to vote. The Catholic Church does not endorse any particular candidate or political party.


In partnership with the Pennsylvania Catholic Conference and the United States Conference of Catholic Bishops, the following is information about candidates' position on issues and the importance of faithful citizenship.
"When The Going Gets Tough"
Some Thoughts Before Election Day 2020
from Bishop Mark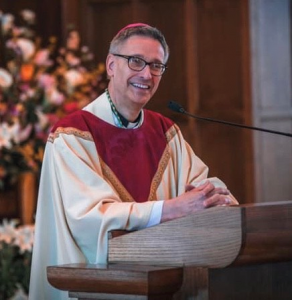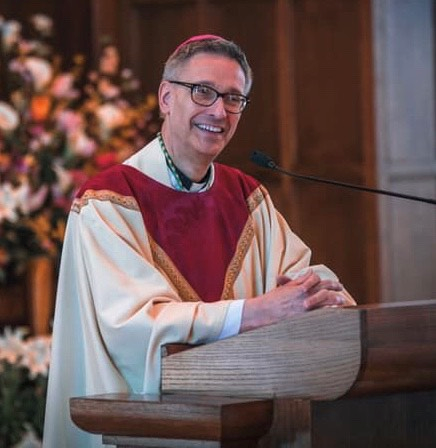 I often hear how many people are feeling angry, anxious, depressed, frightened, or even bewildered these days. It's enough to deal with the ongoing impact of the COVID-19 pandemic on our daily lifestyle and it is more than enough to deal with verbal and physically violent expressions of hate and prejudice which have been manifested in places all across America. As Election Day draws near, good people who believe in the Lord Jesus, his teachings, and the teachings of his Church, are finding it difficult to draw upon their faith as a help in deciding on how to vote.


We have been taught that voting is a hard-earned opportunity to participate in the governance of our country. It began with a battle for independence, and it has been put to the test during a Civil War that erupted when our country was literally torn in half over hard issues such as slavery. Not even the Emancipation Proclamation could stop the debates and violent reactions over the dignity of every human person regardless of race.


In spite of inspired words that are presumed to express the self-evident truth about the God-given dignity of every person and the right to life, liberty, and the pursuit of happiness, we find ourselves in a time and place where millions of human persons are allowed to be killed through abortion on demand, even before they take their first breath of life, liberty, and justice.


People often tell me how tough it is to live and give witness to our Catholic faith. Which includes exercising the civic duty to vote in the upcoming election. It is a duty that is named explicitly in the Catechism of the Catholic Church issued by St. John Paul II (n. 2240). While urging Catholics to work with civil authorities (n. 2238-2239), the Church also teaches that there are times when citizens are obliged to object and resist cooperating with such authorities when laws are contrary to the law of the Gospel (n. 2242).


These and other issues and concerns are found in the materials concerning Faithful Citizenship and voting that are posted on this webpage. To further help in your discernment and the formation of your conscience in preparation for the election, think about the duties of exercising the right to vote, and to vote in a manner that is consistent with the teachings of Christ and the Church.


We all know that a number of the teachings of Christ are tough to hear and even more difficult to act on. For example:


– Love your enemies – Matthews 5:43-47
– Turn the other cheek – Matthew 5.38-42
– God or money: you have to choose – Matthew 6.24
– Don't worry about anything, seek God instead – Matthew 6.25-26, 31-33
– Many are on the path to destruction, and only a few even find the way to life –Matthew 7.13-14
– You must deny yourself, take up your cross daily, and follow Jesus – Luke 9.23-25
– Jesus more than everyone else – Luke 14.26
– There really is a place of "weeping and gnashing of teeth" – Matthew 13-41-43
– Rejoice when you are persecuted on account of Jesus – Matthew 5.10-11
– Luke's version of the Beatitudes – Luke 6. 20-23
– The corresponding Woes – Luke 6.24-26
– The world hated Jesus, so expect the world to hate Christians – John 15.18-20
– Serve the poor, or go to hell – Matthew 25.41-46
– Jesus is the only way to God – John 14.6


The list is from ChurchOP.com, which is part of the EWTN network. The reflection is titled: The 14 Most Challenging, Radical, Do-We-Really-Have-To? Teachings of Jesus. I encourage you to read and reflect on the Scripture passages that are provided in that list.


In making up your mind on how to vote, think about the "Do-We-Really-Have-To?" people and issues: the born, the unborn, the poor, the rich, the uninsured, the refugee, the undocumented immigrant, the persecuted, the foreign and domestic enemies, those who keep the peace and those who do not, those who are charitable and those who are in need of charity that manifests the very love of Christ Jesus.


When the going gets tough, the tough get going. This proverb means when things become very difficult or unpleasant to deal with, people with true resolve, determination, or strength of character will take action and find the means to continue.


Besides the true resolve, determination, or strength of character, we need to add one more qualifier: faith. As an authentic expression of a "patriotic" quality of faith, the Catechism reminds us: "The duty of Christians to take part in the life of the Church impels them to act as witnesses of the Gospel and of the obligations that flow from it. This witness is a transmission of the faith in words and deeds. Witness is an act of justice that establishes the truth or makes it known" (n. 2472).


And one last thought as you think about casting your vote. The word "vote" is from the Latin votum, which means vow, as in a pledge or promise to God or to one's spouse. The Latin word votum also means "a prayer." Lastly, the word votum means a wish; a heartfelt desire for some good. Your vote should begin with a prayer and be a prayer. Cast your vote as an expression of your heartfelt desires and a renewed promise to seek God's blessing on the common good of all.
In keeping with its mission, the Pennsylvania Catholic Conference aims to educate and inform Catholics about a wide range of issues. The information compiled here has been gathered from policies, public statements, official and campaign websites, and other resources, as of September 1, 2020, to help voters form their consciences before voting in November. The issues that appear here do not represent a complete list of issues that may be of importance to Catholics. The PCC neither supports nor opposes any candidate for public office.


"The right to life implies and is linked to other human rights – to the basic goods that every human person needs to live and thrive. All the life issues are connected, for erosion of respect for the life of any individual or group in society necessarily diminishes respect for all life. The moral imperative to respond to the needs of our neighbors – basic needs such as food, shelter, health care, education, and meaningful work – is universally binding on our consciences and may be legitimately fulfilled by a variety of means. Catholics must seek the best ways to respond to these needs…. Above all, the common outcry, which is justly made on behalf of human rights – for example,the rightto health,to home,to work,to family,to culture- is false and illusory ifthe right to life, the most basic and fundamental right and the condition for all other personal rights,is not defended with maximum determination." (Forming Consciences for Faithful Citizenship,Nos. 25, 26, United States Conference of Catholic Bishops, 2019)
In 2016, Trump said that the overturning of Roe v. Wade "will happen automatically…because I am putting pro-life justices on the [U.S. Supreme] Court."


In 2017, Trump signed into law a resolution to allow states to restrict Title X funding for Planned Parenthood and other abortion providers.
According to his website, "As president, Biden will work to codify Roe v. Wade, and his Justice Department will do everything in its power to stop the rash of state laws that so blatantly violate the constitutional right to an abortion…"


"As president, Biden will…reverse the Trump Administration's rule preventing Planned Parenthood and certain other family planning programs from obtaining Title X funds."
In 2020, the Trump Administration presided over five executions (three in July and two in August), the first to be carried out by the federal government in 17 years. Two additional executions are scheduled in September 2020.
According to his website, "Biden will work to pass legislation to eliminate the death penalty at the federal level, and incentivize states to follow the federal government's example. These individuals should instead serve life sentences without probation or parole."
In Februay 2020, Trump said, "Yet, for too long, countless American children have been trapped in failing government schools. To rescue these students, 18 states have created school choice in the form of Opportunity Scholarships… no parent should be forced to send their child to a failing government school."
In January 2020, Biden tweeted, "When we divert public funds to private schools, we undermine the entire public education system. We've got to prioritize investing in our public schools, so every kid in America gets a fair shot. That's why I oppose vouchers."
Trump has begun the process of withdrawing the U.S. from the Paris Agreement on climate change, an international agreement to reduce global greenhouse gas emissions.
In 2019, the Trump Administration announced its decision to discontinue research conducted within the National Institutes of Health "involving the use of human fetal tissue from elective abortion".
While serving in the U.S. Senate: In 2007, Biden voted in favor of the Stem Cell Research Enhancement Act of 2007 (S.5), which provides for human embryonic stem cell research. In 1998, Biden voted against the Human Cloning Prohibition Act (S.1601).
In 2019, the White House confirmed Trump's opposition to the Equality Act, which would add the new terms "sexual orientation" and "gender identity" to the definition of "sex" in federal civil rights laws, and would exempt itself from the Religious Freedom Restoration Act of 1993: "The Trump Administration absolutely opposes discrimination of any kind and supports the equal treatment of all. However, this bill in its current form is filled with poison pills that threaten to undermine parental and conscience rights."
According to his website, Biden believes the Equality Act is the "best vehicle for ensuring equal rights under the law for LGBTQ+ Americans, and will guarantee that LGBTQ+ individuals are protected under existing civil rights laws." Biden lists enacting the Equality Act as a top legislative priority.
According to his website, Trump "repealed the Obamacare individual mandate, expanded plan choices and increased competition to bring down costs for consumers." In June 2020, the Trump administration argued in a legal brief that the entire Affordable Care Act (ACA) should be invalidated. Signed into law in 2010, ACA expanded access to health care coverage for the uninsured.


According to a White House fact sheet, Trump "is using all available means to ensure safe vaccines, therapeutics, and diagnostics are developed, manufactured, and distributed in unprecedented time and scale in response to COVID-19."
According to his website, Biden will protect the Affordable Care Act and build on it by "giving Americans a new choice, a public health insurance option like Medicare; increasing the value of tax credits to lower premiums and extend coverage to more working Americans; [and] expanding coverage to low-income Americans."



According to his website, Biden's COVID-19 plan "ensures the wide availability of free testing; the elimination of all cost barriers to preventive care and treatment for COVID 19; the development of a vaccine; and the full deployment and operation of necessary supplies, personnel, and facilities."
According to his website, "Upon entering office, President Trump called on Congress to fully fund a wall along the Southern border, to close legal loopholes that enable illegal immigration, to end chain migration, and to eliminate the visa lottery program."


In July 2020, the Trump Administration announced it would reject applications for the Deferred Action for Childhood Arrivals (DACA) program stating, "…the fact remains that Congress should act on this matter."


The Trump Administration proposes resettling 18,000 refugees under a new refugee ceiling. The number admitted in 2016 was nearly 85,000.
According to Biden's website, "As president, Joe will prioritize a comprehensive immigration reform to finally give 11 million undocumented immigrants a roadmap to citizenship."


In June 2020, Biden stated, "As President, I will immediately work to make [DACA] permanent by sending a bill to Congress on day one of my Administration."


Biden will set the annual global refugee admissions cap to 125,000.
In 2019, the Trump Administration opposed a House-passed bill that would raise the federal minimum wage to $15, stating, "efforts to reduce taxes, eliminate regulations, and implement fairer trade deals are driving economic growth and increasing workers' take home pay far more effectively and efficiently than legislation like H.R. 582." The current federal minimum wage is $7.25 per hour; a number of states and localities have adopted higher rates.
According to Biden's website, "He firmly believes all Americans are owed a raise, and it's well past time we increase the federal minimum wage to $15 across the country. This increase would include workers who aren't currently earning the minimum wage, like the farmworkers who grow our food and domestic workers who care for our aging and sick and for those with disabilities."
In June 2020, Trump announced four steps to address racial inequity and police reform: 1) aggressively pursuing economic development in minority communities; 2) confronting healthcare disparities, including addressing chronic conditions and investing in minority serving medical institutions; 3) an executive order that will encourage police departments nationwide to meet the most current professional standards for the use of force, including tactics for de-escalation; and 4) renewing a call on Congress to enact school choice.
In a June 2020 op-ed, Biden said, "We should also be directing our resources to actively undo the negative effect systemic racism has had on opportunities for black Americans," citing inequities for African-American entrepreneurs, the gap in home ownership and discriminatory lending practices. Biden also said, "…I'm proposing an additional $300 million to reinvigorate community policing in our country. Every single police department should have the money it needs to institute real reforms…"
In 2017, Trump signed an executive order, which states, "Federal law protects the freedom of Americans and their organizations to exercise religion and participate fully in civic life without undue interference by the Federal Government. The executive branch will honor and enforce those protections."


In response to a July 2020 U.S. Supreme Court ruling preserving the religious liberty of the Little Sisters of the Poor, a White House statement said, "As the Supreme Court has previously stated, protecting the ability of people to worship and live according to the dictates of their conscience is part of 'the best of our traditions.'"
According to Biden's website, "The Trump-Pence Administration has deliberately and systematically attempted to gut protections for the LGBTQ+ community by carving out broad religious exemptions to existing nondiscrimination laws and policies across federal agencies. Biden will reverse Trump's policies misusing these broad exemptions…"


Regarding the July 2020 ruling, Biden said the decision, "will make it easier for the Trump-Pence Administration to continue to strip health care from women–attempting to carve out broad exemptions to the Affordable Care Act's commitment to giving all women free access to recommended contraception."
*Disclaimer: As a nonprofit 501(c)(3) organization, the Pennsylvania Catholic Conference is not associated with any political party and does not endorse any candidate, political party, or political action committee.
The Pennsylvania Catholic Conference is the public affairs arm of the Catholic bishops across the state. We monitor hundreds of pieces of legislation throughout the year and determine whether or not to take a position for or against what we feel are the ones most important to our faith.
This Voter Guide includes a cross-section of seven bills spanning seven categories to show how incumbent legislators have voted. We have also invited their challengers in the general election to indicate how they would vote on these same bills. This guide is meant to be an educational piece, which we hope will provide you with information so that you can make your own decisions.


A listing of the bills used for this comparison and their descriptions are below. Please understand we continue to work with legislators from all parties on various pieces of legislation. Unlike these, not all of that legislation has been sent to the Governor.


The Conference neither supports nor opposes any candidate or political party. The Catholic Conference aims to educate and inform Catholics about a wide range of issues.



List of issues included for comparison:


Pro Life
House Bill 321 (HB 321) was a prolife measure which would prohibit the aborting of a fetus solely on the basis of a possible diagnosis of Down syndrome. The PCC strongly supported this bill and worked with prolife lawmakers to gain its passage. The bill passed both the House and the Senate but was vetoed by Governor Wolf.


Criminal Justice Reform
Senate Bill 637 (SB 637) is a bill that will remove procedural boundaries that have prevented many ex-offenders from getting professional licenses in a number of professions. The PCC supported this measure, which got bi-partisan support. It's a bill that many law enforcement professionals say will result in a reduction of crime. The bill passed both chambers and was recently signed by the Governor.


Disability Rights
Senate Bill 906 (SB 906) was a measure that would delay the closing of two state long-term centers. The Wolf Administration had called for the closing of both facilities, but the PCC had concerns about what would happen to the residents. We supported the bill, which passed both the House and Senate but was vetoed by the Governor.


Health Care
House Bill 427 (HB 427) required that health insurers stay out of decisions between doctors and patients suffering from Stage IV metastatic cancer. The PCC supported this measure.


Human Trafficking
Senate Bill 60 (SB 60) increased penalties for those connected with crimes of human trafficking. The PCC actively supported this measure in continuing with our efforts to work against human trafficking. This bill was one such bill that was passed and signed into law by the Governor this session.


Poverty
House Bill 33 (HB 33) was a move to eliminate public assistance due to a purported lack of accountability of recipients. Voting 'yes' on the bill would advocate the ending of that $200 per month payment. The PCC opposed this bill. The bill ultimately was signed into law.


School Choice
House Bill 800 (HB 800) was a bill that would have provided tax credits toward children who were attending a failing public school and wanted to attend another school of their choice. The PCC supported this measure as we do with all bills designed to further school choice. Both the House and Senate approved the measure but it was vetoed by the Governor.


Detailed voting breakdown of legislators voting with or against PCC's position are below:


PCC Voters Guide - Legislator Voting Record (Senate)
| District | Candidate | SB 637 | SB 906 | HB 427 | SB 60 | HB 33 | HB 321 | HB 800 |
| --- | --- | --- | --- | --- | --- | --- | --- | --- |
| 25 | Margaret Satterwhite | | | | | | | |
| 25 | Cris Dush (R) | Yes | Yes | Yes | Yes | No | Yes | Yes |
| 35 | Wayne Langerholic (R)* | Yes | Yes | Yes | Yes | No | Yes | Yes |
| 35 | Shaun A. Dougherty (D) | | | | | | | |
PCC Voters Guide - Legislator Voting Record (House)
| District | Candidate | HB 321 | SB 637 | SB 906 | HB 427 | SB 60 | HB 33 | HB 800 |
| --- | --- | --- | --- | --- | --- | --- | --- | --- |
| 51 | Matthew David Dowling (R)* | Yes | Yes | No | Yes | Yes | No | Yes |
| 59 | Michael P. Reese (R)* | Yes | Yes | Yes | Yes | Yes | No | Yes |
| 69 | Carl Walker Metzgar (R)* | Yes | Yes | No | Yes | Yes | No | Yes |
| 71 | James Rigby (R)* | Yes | Yes | Yes | Yes | Yes | No | Yes |
| 72 | Frank Burns (D)* | Yes | Yes | Yes | Yes | Yes | No | No |
| 72 | Howard D. Terndrup (R) | Yes | Yes | Yes | Yes | Yes | No | Yes |
| 73 | Thomas Sankey (R)* | NV | Yes | Yes | Yes | Yes | No | Yes |
| 76 | Stephanie P. Borowicz (R)* | Yes | Yes | No | Yes | Yes | No | Yes |
| 76 | Joseph Waltz (D) | | | | | | | |
| 77 | H. Scott Conklin (D)* | NV | Yes | Yes | Yes | Yes | Yes | No |
| 77 | Stephen T. Yetsko (R) | | | | | | | |
| 78 | Jesse Topper (R)* | Yes | Yes | No | Yes | Yes | No | Yes |
| 79 | Louis C. Schmitt (R)* | Yes | Yes | Yes | Yes | Yes | No | Yes |
| 79 | Jason R. Runk (D) | | | | | | | |
| 80 | James V. Gregory (R)* | Yes | Yes | Yes | Yes | Yes | No | Yes |
| 81 | Richard S. Irvin (R)* | Yes | Yes | No | Yes | Yes | No | Yes |
| 81 | Ian Michael Kidd (D) | | | | | | | |
| 171 | Kerry A. Benninghoff (R)* | Yes | Yes | No | Yes | Yes | No | Yes |
| 171 | Peter Dawson Buckland (D) | | | | | | | |
USCCB Resources
Forming Consciences for Faithful Citizenship
"We need to participate for the common good. Sometimes we hear: a good Catholic is not interested in politics. This is not true: good Catholics immerse themselves in politics by offering the best of themselves so that the leader can govern." – Pope Francis, September 16, 2013
The Catholic bishops of the United States are pleased to offer once again to the Catholic faithful Forming Consciences for Faithful Citizenship (en Español), our teaching document on the political responsibility of Catholics. This statement represents our guidance for Catholics in the exercise of their rights and duties as participants in our democracy. We urge our pastors, lay and religious faithful, and all people of good will to use this statement to help form their consciences; to teach those entrusted to their care; to contribute to civil and respectful public dialogue; and to shape political choices in the coming election in light of Catholic teaching. The statement lifts up our dual heritage as both faithful Catholics and American citizens with rights and duties as participants in the civil order.
Civilize It!


The United States Conference of Catholic Bishops (USCCB) has launched a campaign inviting Catholics to model civility and love for neighbor throughout the year. Civilize It: Dignity Beyond the Debate will ask Catholics to pledge civility, clarity, and compassion in their families, communities, and parishes, and call on others to do so as well. Find out more information and resources to share with your community at CivilizeIt.org.